A Blog Documenting My Journey from Student Pilot to Airline Transport Pilot And Now My Son's Same Journey
2005 - 2017
Blog Archive
['16, '15, '14, '13, '12, '11, '10, '09, '08, '07, '06, '05]
[December 31, 2017]
2017 Year In Review
______________________________________________________________________________________________________
Happy New Year. Time is running away from me. My work schedule of seven on, seven off seems to accelerate life. With more time on my hands than ever I have no excuse for the limited number of blog posts made during 2017. It was not from a lack of experiences that is for sure. I'll try to do 2017 a little more justice as I take a moment to look back at the year in review.
2017 was many things, it was certainly a year of change, it had some real high points, and a few lows. It was the year I finally achieved my goal of flying professionally in a non-instructional role as a MEDEVAC pilot flying the Rockwell Turbo Commander 690B. This job alone had a steep learning curve relative to my flying experiences up to that point. It was the year Carson became a certificated pilot, which alone would have made the year a major success. It was the year of serious maintenance struggles with 31J, and despite these issues we were still able to complete several cross country adventures trouble free. It was the year where I finally decided that building my own airplane was not for me. So let's go back into 2017 one more time and close this chapter in my life and determine what goals should be made for the future and 2018.
Just after leaving flight instruction full time I achieved the pinnacle of my endeavors as an instructor by being named the FAA Flight Instructor of the Year for Arizona. It felt like the culmination of all my efforts over the previous three years. This proved to me that it was time to go find a new challenge, which my new flying job certainly was going to keep that growth as a pilot going.
The year started with a brand new job flying the Turbo Commander as a MEDEVAC pilot based out of Safford. I entered this job with no turbine time experience and very little weather flying experience. I entered into the world of single pilot IFR operations in the dead of a fairly active Arizona winter and the experience was stressful. Again this is all relative to my experience, I'm not saying Arizona winters are tough compared to say Montana or Colorado, but when you are flying in ice filled clouds and shooting approaches at night in snow it is extremely nerve racking if you have never done it before. Unlike instructing the decision not to fly due to weather was no longer black and white. If you declined a flight it would have to be for very good reasons such as snow storm, 40 knot surface winds, etc. These conditions did occur but often times they were not to that level meaning you had better go. It was a long winter that felt like it lasted forever, finally giving way to Spring in March and the ridiculous winds that are the hallmark of Spring in Arizona. Of course I'll take winds over ice and low ceilings any day. The monsoon season was another stressful period but thankfully it was a very mild monsoon allowing me to gain experience dealing with thunderstorms. The fall was absolutely incredible this year, beautiful weather, light winds, blue skies, cool temps and very little flying both personal and professional. I watched many pilots come and go in my first year in the job. The other pilot in my training class left in August. Every pilot at my base left but two came back. One new hire only lasted a few months. I hung in there and persevered, slowly gaining experience and confidence. I quickly moved up the seniority ladder with so many personnel movements and became the base lead pilot by mid-year. We had a few pilots hired during the year who came from the regional airlines. I spoke with them about their experience and none of it was good. These conversations were enough for me to finally decide to lay to rest the idea of one day being an airline pilot. I had missed the window of opportunity for such a flying career; it would be too difficult to take so many steps backward as far as lifestyle and pay at this point in my life. My future in flying became clearer throughout the year, starting my own flight school was probably the way I needed to go. By the end of the year I was feeling pretty confortable. The amount of hours I flew dropped off from previous years but that was to be expected.
Maintenance issues plagued 31J all year long. From my calculations the plane was down almost 50% of the year. It started in January with tail noise heard during run-up. It turned out to be loose bolts on the tail attach points. It was "repaired" in March and we were able to fly it to Utah and up to San Francisco as well as Carson's first solo during the intervening months before it went into annual at the end of September. This year's annual was the worst experience I've had since 044's annual in Chandler. I tried a new mechanic but it turned out to be a bad decision. He approached the annual as a restoration with money as no issue. Two months later I had to get a ferry permit to get the airplane back to a trusted mechanic. But the damage had been done and an entire top overhaul was required. Even more frustrating was repairs completed during the year including the tail attach bolts all had to be re-repaired. Unforecasted maintenance is frustrating, but even more frustrating is paying for repairs that are not completed correctly and having to have it redone. It was not until the end of December that 31J was back and I must say it felt like a new airplane. After an hour of flying I realized that 31J original engine had been a poor performer for as long as I could remember. The best I could get in indicated cruise was usually 90 MPH with a slight one or two degree nose up attitude just to maintain altitude. Climbs were always anemic at 100-200fpm. Now I was indicating 105mph with powerful 500fpm climbs. The close call in Show Low on takeoff back in February and the struggle to maintain altitude on the way home from Utah in April made total sense now. The hours flown on 31J were more as a mode of transportation to and from work this year than excursions as in previous years. There was very little flying for fun as in previous years which I regret. Despite all of the maintenance down time I was still able to fly 115 hours in the little 150.
Cross countries this year included, Utah and northern California. This year's GAXC was not as ambitious as previous years but just as fun taking me and Carson to Northern California for a week. The airplane performed flawlessly, the weather perfect, and we finally got to fly over San Fran Bay Bridge. The next month we were off to Oshkosh and camping on the grounds, something we had not done on past visits. Despite the anticipation Oshkosh was not quite as fun as previous years and while I can't put a figure on why Carson thought it was the camping. I don't foresee returning to Oshkosh any time in the near future. In October we vacationed in Oahu and I get a second chance to fly around the island in a Cessna 172.
I tried my hand for a third time at building an airplane in 2017. This was the most serious attempt after two other aborted attempts. With a master builder on the field at Safford I had the time, the equipment, and the mentor to make this run a success. I started building an RV-8, my dream airplane in April. Learning the skills took some time but by the beginning of June I had completed the vertical stabilizer, by August the rudder, and by the end of September the horizontal stab. In October I came to the realization that building an airplane felt more like work than fun. I started dreading going to the workshop each morning and spent some time thinking hard about if this was something I really wanted to do. The nail in the coffin of course was money and when I realized my estimate to complete the build was $40,000 less than what the master builder estimated. I knew this experience was coming to an end. I paid the builder to finish my elevators and took delivery at the beginning of November. I have no regrets with the whole experience. I learned a tremendous amount about building airplanes and made many new friends along the way. I have something very tangible to show for all the work, a nice set of RV-8 tail feathers. Who knows maybe someday Carson will pick up the ball and run with it and those tail feathers will fly on his RV-8.
The real focus of 2017 was on Carson. He would turn 16 this year and that meant he was eligible to solo an airplane and earn his private pilot glider certificate. We got serious about his glider training in May finally settling on Estrella in south Phoenix as his flight school. In August we buckled down hard on preparing for the written which Carson aced with a 98%. On his birthday he passed his checkride and received his pilot certificate, a few hours later he soloed 31J. Later in the month he took me up in the 2-33 as his first passenger. It would be one of the most memorable and enjoyable flights of my life as we soared side by side with hawks. Carson soloed the SGS 1-26, a single seat glider and one of Neil Armstrong's favorites, for the first time later in the month. 31J went down for maintenance at the end of September which ended any chance of getting Carson more solo time logged before the end of the year.
So in the end 2017 was a success despite some maintenance setbacks. My overall focus on 2018 is on Carson and positioning him as best I can for success in his future by continuing to solidify the foundation that we have been building for many years. We will focus on preparing for passing his ASEL private pilot checkride and building lots of solo PIC time. I would also very much like to get back to weekend x-c flights around the state in 31J. Those have fallen off in recent years. I want to get checked out in a glider at Estrella so I can soar side by side with Carson next Summer. Hopefully flying at work will pick up and I will achieve 250 hours of twin turbine time. GAXC5 planning is also in the works, destination: northeast United States. This will give us a chance to mark off a few more states that we have landed a plane in. Finally it's time to start growing my own flight instruction business, Flying Wild AZ. Long term I would love to have a father and son flight instruction/ferry/charter business with a small fleet of aircraft including good 'ole 31J, maybe a J-3 Cub for tailwheel, a Piper Apache for multi/ATP, a Super Cub with fat tires for bush training with a set of floats stashed nearby for sea plane training. Our local airport transportation will be a beautifully restored red 1950's red Chevy pickup and a Willys Jeep decked out in WW2 markings. Next door will be a little diner we will call the Greasy Spoon serving all the black coffee you can stomach and juicy hamburgers and fries that will literally make your heart stop. The inside of our office display all of our flying posters we have collected over the years and Carson's impressive collection of model planes. I can see it clear as day in my mind...now just to make it a reality. On my desk sits a Christmas gift from my daughter, it's a Disney figure and on the bottom it reads "If you can dream it, you can do it."
[December 21, 2017]
Reunited And It Feels So Good!
______________________________________________________________________________________________________
I finally received the call that 31J was out of annual and the top overhaul and ready for flight. Boy was I excited to see her again. I'm no stranger to breaking in new cylinders. I had to do it with 044 when she had to have two jugs overhauled for stuck valves. The key is you have to run the piss out of the engine until the rings seat. Baby the airplane and you may have end up creating a giant oil pump. With so much work done on the airplane the chance of something going wrong was higher than normal so the plan of attack was to takeoff and climb over the airport and fly circuits for an hour within gliding distance. If the engine decided to come apart than I had a way out. On takeoff CHT temps were high, probably about 450F and this was expected. Lots of metal on metal as the rings wore against the cylinder walls. What was astonishing was the difference in performance, she was climbing at 500FPM and cruising at 110MPH. I had never seen anything like this on the chrome jugs, ever. I was lucky to get 200fpm and 90mph in cruise. I flew for an hour uneventfully which was good and came back for a landing. I observed no traffic and heard no traffic on the CTAF. As I rolled out on landing I was shocked to see a Cessna 172 flying directly at me. He was about 15 feet off the runway. He sidestepped to my left and flew by me as I called him on the radio. No answer. Wow, that was scary. I never saw this guy coming even though I looked directly down the runway on landing. He never did come up on the radio. Crazy. After shutting down we opened up the cowl and inspected the engine, no leaks, everything in place, things looked good. The next step was to put five more hours on the engine before an oil change and new mineral oil. Most of the metal we were making was going to happen in the first hours so an oil change would keep that level down as we completed the 25 hour break in. I flew 31J back to Safford with just a big smile on my face, I got half a new airplane and it was AWESOME!
[December 17, 2017]
Flightdeck Boeing 737 Experience
______________________________________________________________________________________________________
We are in Southern California this week making our annual pilgrimage to Disneyland. It was the perfect opportunity to give Carson an early Christmas present by surprising him with a trip to Flightdeck in Anaheim. Flightdeck's web site describes the company as follows: The flight is simulated. The experience is real. EXPERIENCE the thrill of aerial maneuvers at 600 knots and air-to-air combat in an authentic military flight simulator. FEEL what it's like to take the controls of a commercial airliner in our Boeing 737 flight simulator. Guests who are not flying can relax in our Officers Club and watch all the aerial action on large LCD screens. No experience required. Classroom training and in-flight instruction are provided to ensure a challenging aviation-themed adventure that you won't forget. Open to the general public with special programs for corporate events, team building, private events and parties. Consistently voted as one of the top 10 things to do in Anaheim and Orange County and only 2 miles from Disneyland.
For Carson I purchased the 30 minute Boeing 737 experience, which would end up lasting almost an hour with a very knowledgeable instructor. The simulator is static, no motion, but the fidelity of the simulation is so good it tricks your mind into thinking you are moving. Carson opted to fly from Princess Juliana Airport down in St Martin and he did a fantastic job taking off, landing, and even flying an approach. Having flown the real Boeing 737 simulator at Continental back in 2012 I can tell you this simulator was on par with its multi-million dollar cousin.
[November 24, 2017]
Very Bad News
______________________________________________________________________________________________________
So the new annual has not gone well, 31J is very sick, two cylinders are a mess and according to my mechanic the other two are not far behind. These are chrome cylinders which while once all the rage have been mostly abandoned due to issues with quality control in the chroming process. I've weighed the options and decided I'm going all in with 31J. She is going to be sticking around for the foreseeable future and I'm investing big time. I've decided to purchase four brand new cylinders. A plane upgrade will have to be set aside for now.
[November 1, 2017]
Ferry Permit
______________________________________________________________________________________________________
The annual inspection has devolved into a nightmare. I've finally decided on the nuclear option and instructed the mechanic to button up my airplane and certify it safe for a reposition flight to another shop. Getting a ferry permit was not nearly the hassle I imagined it would be. The Scottsdale FSDO was super helpful and needed very little information in order to issue the permit which I had via email in just a few days. Now the hardest and most dangerous part was moving the airplane. The mechanic certified the plane safe for the 40 minute flight but I had very little trust in him. I was going to be prepared for anything. The route of flight was safe for the most part, once out of the valley that the airport was located in I could follow a highway in mostly flat desert all the way to my destination. The trick was getting safely to altitude. I studied Google satellite maps of the departure ends of each runway and identified the safest places to land if I lost the engine after takeoff. Some people will find this funny but I was not taking any chances. I packed leather gloves, a leather jacket, and a motorcycle helmet in my gear. If I crashed I was not going to be knocked unconscious and I was not going to burn. The pick-up of the plane was cordial and civilized despite all of the tension over the previous month. I just wanted to get the airplane out of there. As I rolled for takeoff I anticipated an engine failure so as not to be surprised if it did happen, fortunately it did not happen and the flight over was uneventful. 31J was delivered to a trusted mechanic and the annual inspection process, after a month of wasted effort and resources, was started anew.
[October 30, 2017]
Why Learning to Glide First is the Way to Go
______________________________________________________________________________________________________
After I added the glider rating to my pilot certificate in 2011 (Feb 2011 Blog link) I became convinced that learning to fly a glider before learning to fly a powered airplane was the most logical progression for a budding aviator. After watching my own son, Carson, progress through training as a glider pilot and the subsequent large improvements in his powered flying I am left with little doubt that gliders are the way to go if you want to be an aviator who is a cut above the common unwashed pilot masses. Here are just a few reasons why getting your glider pilot certificate will make you a far superior pilot all around.
1. Gliding/soaring is the essence of flying. No messy engine to add an infinite number of variables that only block the learning process and mask true aerodynamics. If you want to be trained in the classical sense, gliders are your Bach and Mozart.
2. Gliding teaches you to get in touch with your surrounding environment. You learn how to read where the thermals are, to feel your aircraft, understand the dynamics of wind and its interaction with terrain. You VISUALIZE the ocean of air that your aircraft is traveling through. In over a 1,000 hours of flight instruction I have never seen this skill in powered aircraft students. Do I really need this skill as a powered pilot? I can tell you it has served me incredibly well flying underpowered aircraft in high & hot environments when even maximization of aircraft performance needs a boost from Mother Nature. It has saved my bacon more than once. Charles Lindbergh won air races repeatedly by finding ridge lift to quickly get to altitude while his competition was just slogging along in a brute force climb.
3. Gliders give you a subconscious pitch/attitude awareness at all times. A glider pilot is always aware of his ENERGY state. With no engine you quickly realize that airspeed is controlled by pitch in a glider, gravity is your thrust. This skill translates into a subconscious ability to always ensure the craft's angle of attack is well clear of critical. I've had so many incidents of powered students getting way to slow on the turn from base to final, the dreaded stall/spin zone, that I have lost count. I never see that problem in Carson's flying.
4. Gliding desensitizes you to landing on non-paved runways. One of the great benefits of Carson's glider training is that he has routinely landed on rutty narrow dirt roads and gravel runways. It's no big deal to him. Soft/short field flying in the powered world is a lost art. Very few pilots will ever actually fly into a dirt/grass strip in their flying careers. The first time I took a powered student pilot (commercial student by the way) to a dirt runway to apply soft/short field flying techniques the set-up, approach and attempt at a landing were horrible. I took other students to the strip with the same results. These students were very capable I flying a soft field approach at a paved runway but when it came time to practical application in the real world, the dirt got the better of them. It got into their head and beat them before they even began the approach. Because they had never experienced dirt before, it was unknown to them, there was an element of fear and it affected their flying. So who cares and why does it matter? It matters because some day that fan on the front of the plane may quit and when it does you may have to put your plane down on a narrow dirt road or grass field. If you have never done it before it will be very intimidating and the probability of a positive outcome will be miniscule.
5. While Gliding you are conditioned to always have a landing location picked out. The chances of you landing out are very real all of the time in gliders, especially on a cross country, and with glider pilots "landing out" is really not a big deal. We teach this in the powered world as well but I can assure you that 95% of powered pilots do not do this. So why don't powered pilots always have a landing location on tap? It's due to a thing called NORMALCY BIAS. Our brains our hardwired to assume that things will be predictable and normal all the time. In airplanes that type of thinking will KILL YOU. You have to expect the unexpected. Whenever I'm over water or mountains I'm looking for my way out and if there are no options I try to minimize my exposure time over these environments to the absolute minimum.
6. Glider pilots know what rudder pedals are for and how to use them. Like a J-3 Cub, gliders with their long ailerons are extremely unforgiving on pilots with poor rudder skills. That little yaw string on the front of the canopy quickly teaches new glider pilots that we fly with our hands AND OUR FEET.
7. Glider pilots are experts at forward slips. Again like the J-3 Cub, most gliders do not have flaps. This results in a lot of forward slipping to lose altitude on final approach. The usefulness of a well executed forward slip in a pilot's tool bag of skills cannot be overemphasized.
8. When a powered plane's engine quits glider pilots are in their element not out of it like a non-powered pilot. Successful outcomes are a result of training and preparation. Actively gliding in addition to your powered flight activities is like constant emergency training. A powered pilot who practices an emergency landing once every two years during his/her flight review has very little probability actually pulling one off for real when the shit hits the fan.
I hope these eight points has convinced readers who are contemplating getting into aviation to go the glider route first. If you are already a powered pilot, it's not too late, go get that glider add-on. I guarantee it will make you a better and SAFER pilot all around!
[October 10, 2017]
Fall is Here
______________________________________________________________________________________________________
Morning temperatures are now cool enough to require a jacket in Safford, the best flying season in Arizona has arrived for but a few brief months.
[October 3-7, 2017]
Back to Oahu, Hawaii
______________________________________________________________________________________________________
https://www.cloudahoy.com/debrief/?key=fcGRUTcmmXNdwSJ36gCM
Videos:
External Camera (not vibration isolated) Entire Flight
VR360 Approach and Landing at Honolulu
Back to the island of Oahu, this time with Christina and not on business! So if you recall the last time I was in Oahu was February 2013. At that time I went down to George Aviation at the Honolulu International Airport and rented a Cessna 172 with instructor to go fly around the island. My GoPro set up at the time was a RAM suction mount which I duct tapped to the left lift strut since the strut is rounded in such a way that you cannot get a great seal with the suction cup and I don't trust them anyway. I was so excited to watch the video after the flight but was disappointed to find that the humidity had clouded the Gopro camera housing leaving me with murky and less than ideal footage. At the time I thought a once in a lifetime opportunity had been botched, but just like our second fly over of the Golden Gate Bridge I was going to get a second chance. Chris and I went back to George Aviation to rent another Cessna 172 with instructor since my first experience with them was so good. This time around I came prepared with GoPro anti-fog inserts. The inserts are small tabs that fit around the camera inside the housing and absorb moisture to keep it from forming on the lens. In addition to a forward facing GoPro externally mounted I also mounted an internal GoPro and a Samsung Gear 360 on the other wing. I would not be denied! We flew around the island, had a great experience, and once again I was excited to see the footage. Once again I was disappointed, while not as bad as the 2013 flight, it appeared the lens had fogged up again, ugh! In fact what happened was not moisture inside the housing but instead a film had coated the outside of the housing from the Pacific Ocean's salty air. Not much you can do about that unless you have some type of NASCAR in car camera with the rolling clear cover. How did I figure this out? The Gear 360 has two lenses, one was facing forward, the other rearward. The rearward lens stayed clear for the entire flight while the forward lens developed the salty film on the lens. If you go I recommend cleaning the aircraft windshield and placing your mount inside the plane that way you are ensured of having at least something memorable from your flight. On a separate note, I did not have this issue with my external cameras in the Bahamas and that footage is amazing!
[September 25, 2017]
31J into Annual
______________________________________________________________________________________________________
Flew 31J out to Kearney today so that Roger from Little Flyers can conduct the annual. I'm thinking about pulling the trigger on upgrading to ADS-B after my Narco transponder has been giving me problems recently. The weather is definitely starting to turn to the cooler side now. Mornings in Phoenix are very pleasant.
[September 23, 2017]
Memorable First Schweizer 1-26 Flight
______________________________________________________________________________________________________
Carson conducted his first flights in the Schweizer 1-26 single seat glider today at Estrella and it would end up being very memorable. After about a 15 minute orientation to the aircraft and some previous homework studying the operator's manual he was ready to get towed aloft. He was the first aircraft of the day to be towed (note to self). The instructor warned Carson that the 1-26 was more sensitive in pitch relative to the 2-33 and that it was easy to get into PIO on tow if not careful of this fact. His aircraft was the sailports only 1-26, N2975H painted a light yellow on the fuselage with white wings and horizontal stabilizer. The wings and fuse are metal and the controls surfaces are fabric covered. The takeoff went picture perfect, Carson lifted the glider into the air only a foot or two off the ground and stabilized without a hint of over controlling in pitch. The tow plane started to climb out, a half mile out it appeared to rock its wings and then made a slow arching turn to the right. As the tow plane began its downwind it became obvious something was wrong. I could hear the engine surging as if the pilot were pushing and pulling the throttle. As the two aircraft came abeam of my location the tow plane rocked his wings again and this time Carson released from the tow. The tow plane flew straight ahead and entered into a right base for a normal landing. Carson flew a few circular patterns before reentering the pattern and landing perfectly as if he had flown the 1-26 before. Come to find out the tow plane had a fuel pump issue and was in fact signaling for Carson to release. It was a real world emergency and he had handled it in stride even though it was in a glider he had never flown before. His second tow in the 1-26 went off uneventfully and he spent the better part of an hour working small weak thermals. He liked the performance of the 1-26, it had a much tighter turning radius than the 2-33 and found the controls light and responsive. The 1-26 was designed by Schweizer to be the stepping stone from the 2-33 in a glider pilot's progression to more advanced gliders. The coolest thing about this flight was the fact that there was no dual instruction preceding the first solo. In ten years of flying this is something I have yet to experience, so in this respect I guess Carson has one up on me.
[September 17, 2017]
Is Monsoon Season Over?
______________________________________________________________________________________________________
Up until the beginning of August the monsoon season was looking like one for the record books then it was like someone Mother Nature flipped a switch and the thunderstorms were gone. For three weeks flight calls dropped off dramatically and I flew only 6.5 hours. The weather was beautiful, perfect for flying, but we rarely get called when the conditions are so perfect and flying is enjoyable and stress free. Go figure, it is a job right? And work is not supposed to be fun. For the last month there still has been thunderstorm activity but it so isolated and mostly up north that it has rarely impacted operations. Monsoon season in Arizona officially ends September 30th, but by all indications it appears over for this year. We now move into hands down the best flying season in Arizona, fall. Comfortable temperatures, no thunderstorms, no wind, and no ice filled clouds. I'm going to savor it because I know it will not last.
In other news, I finished building the horizontal stabilizer on my RV-8 this week, that leaves just the elevators to complete the entire tail feathers.
[September 9, 2017]
First Passenger Flight
______________________________________________________________________________________________________
Went up today as Carson's first passenger in the SGS 2-33, the same glider he passed his checkride in. I'm out of recency for my glider rating so he truly was the PIC. The back seat in the 2-33 is a cramped affair even for someone that is only 5'8". I did not want to rest my feet on the rudder pedals as they would cause additional resistance for Carson, so my knees were practically in my chest. I did not realize they would end up being like that for over two hours! Carson executed a smooth takeoff being towed by the Pawnee and kept his position behind the plane locked in all the way up to our release altitude. He found a weak thermal near the sailport and after 30 minutes we were within 200ft of having to enter the traffic pattern. I thought the amount of time was enough to justify the tow, but then Carson found a stronger thermal and he started to slowly climb back to our original release altitude ever so slowly. We must have circled a thousand times working the thermals for every foot they would give us. At one point we spotted a bird circling below, a sure sign of a thermal. We centered up on him from above and instantly found lift. As we circled the bird climbed higher and higher until he was at our altitude and we were circling together. It was an amazing sight, and it would actually happen twice during the flight. At one hour we were easily staying aloft in the ever growing thermals. We broke Carson's previous record aloft time and now he was trying to double it. We could see small cumulous clouds starting to develop over the mountains about 4 miles north of the field. We climbed up to 6000ft and headed for them. All long the ridge line was great lift, Carson no longer had to circle and could just fly straight along the ridge while climbing higher and higher. After two hours of soaring we decided it was time to head back to the sailport. Of course at the same time two gliders and the tow plane all decided to return to the field as well which forced us to remain aloft for an additional ten minutes while we waited for all the traffic to clear from the runway. Carson put the glider down right where he wanted and as the glider's landing skid contacted dirt and rock it created a cacophony of noise in the cockpit that sounded more like a controlled crash then a landing in any airplane, but this is completely normal in a glider, at least the 2-33. I'm glad I got to be Carson's first passenger on such a memorable flight, one I for sure will never forget. Next time out Carson will fly a single person ship, the 1-26. There is no flight checkout with an instructor for obvious reasons. Instead he tells you what to expect and you go out and discover on your own. This will be exciting!
At the end of the flight today I paid for the tow and glider rental and then Carson asked me the legality of me paying. That is such an interesting question, Carson was the legal PIC, and per the FAR as a passenger I'm only allowed to pay 50% of the cost. How in the heck is that rule supposed to work with parent passengers and minor pilots?
[September 2, 2017]
The Big Day
______________________________________________________________________________________________________
Well the Big Day finally arrived. Carson's 16th birthday and glider private pilot checkride. I am working nights this week in Safford so I had to blast off at O-dark thirty to meet Chris and Carson at Ak Chin Airport after only two hours of sleep. A beautiful morning with a 10 knot tailwind. This was the first good sign. Chris and Carson pulled into Ak Chin Airport's parking lot just as I pulled up to the self-serve pump, perfect timing and another good sign. Just finishing fueling at the pump is none other the first Cessna 150 I owned, N51044. This was going to be a good day for sure. 044 looked like she had been rode hard and put up wet, her white belly was caked with dirt and oil. It must have been some time since she had a good washing. I have never let either of my 150s ever get so dirty, just a point of pride. Two people were in 044, neither looked like the person I had sold the plane to back in 2014. Well at least she is still flying and she remains in the Phoenix area.
From Ak Chin we headed to Estrella Sail Port just down the road. The DE wanted to meet at 7:45 and we were on schedule to the minute. Carson was really nervous as anyone would be not knowing what to expect from their first checkride experience. The designated examiner, Tony, was awesome and the perfect DE to set a positive tone for the many checkrides Carson would have in his future. I got to sit in the back while they went through IACRA and the administrative task of the checkride. Tony did a great job of putting Carson at ease. I excused myself when the oral knowledge portion of the exam started. I had learned many checkrides ago as an instructor not to observe an exam as you will just go crazy wanting to blurt the answer out when the student starts struggling. It would be ten times worse with my own son. He was prepared, I knew he would do well. If he could get through the oral I knew he would pass without a doubt as his flying was spot on. Chris and I waited nervously outside, actually she was as calm as could be and I was the one pacing back and forth as if waiting for the birth of my first child, thinking and rethinking about all of the preparations for this day.
An hour and a half later Carson emerged from the office with a grin on his face. He had passed the oral! I was certain he was home free now. Just two more flights and he would be a private pilot. The wind was picking up even though the forecast was for mostly calm winds all day. It was almost a direct crosswind which made Carson a little nervous as he still did not feel he had yet mastered cross wind landings. He meticulously pre-flighted his beautiful blue Schweitzer 2-33A Glider N65811. He was so thorough that the DE asked if he was performing a 100 hour inspection. Better safe than sorry I say. His first tow takeoff was picture perfect. They were up for about 25 minutes going through all of the mandatory maneuvers like boxing the wake, steep turns, slow flight, stalls, etc. He had a great first landing and then quickly reset for flight number two. Towed aloft again by a white Piper Pawnee, the second tow was much shorter. The second flight lasted only seven minutes and was completed with a slip and accuracy landing. Perfectly executed Carson touched down for the final time, he had done it! A major pilot milestone accomplished when other kids his age are trying to just get a driver's license. Both Chris and I were probably more excited than Carson on his achievement. All the work that had started way back at the Prescott Soaring Society with Carson's first lesson on January 18, 2015, his first winch launch solo at age 14 on February 7, 2016, and finally the transition to Estrella and aero-tow in May of this year. It all came together in the end. But we were only half way complete with the day's activities, Carson still needed to solo our airplane.
With his freshly printed temporary airmen certificate in hand we headed back to Ak-Chin Airport to prepare 31J for her flight over to Coolidge Municipal for the solo work. I picked Coolidge for its wide primary runway 5-23, 5564ft long and 150 ft wide. Plenty of room for errors, not that I expected any. It also had a cross runway 17-35, a little shorter but also 75ft wide just in case the winds were not favorable for 5-23. We had flown to P08 the week prior to practice pattern work and landings so that Carson was familiar with the layout. We practiced aborted takeoffs after lift-off, tight patterns, emergency power off 180s along with normal landings. Ak-Chin had not proved suitable as its runway was very narrow and winds usually blew at 90 degree angles. Not what you want for a first student solo.
It was a typical hot Phoenix summer afternoon, and I hoped the Cessna's oil temperature would not give us problems. The only other concern that I had was the amount of traffic we would encounter at Coolidge. Phoenix is the flight training capital of the world and many of the large flight schools that cater to Asian pilots usually frequent the outlying uncontrolled fields. I gave Carson a white t-shirt to put on for his solo so we would not have to ruin the nice short sleeve polo he wore for his checkride. Despite the heat we did not climb very high for the 25 NM hop over to Coolidge. I felt we would be better getting airflow through the engine to try to hold oil temps at bay. That worked.
Tuning into the CTAF I was relieved to hear little traffic in the pattern at P08, but I also knew that could change in an instant. I only needed Carson to demonstrate three takeoff and landings without my assistance to send him off on his own. All of the other training requirements had been long ago completed. With over 200 hours total time logged and about 175 hours in Cessna 150s Carson had been flying for as long as he could remember and long before he could even see beyond the instrument panel. Flying was a second nature to him as walking or talking. He had avoided talking on the radio all the way up until last month, but now he gave radio calls like he had done it his whole life. I was proud of his journey and honored to be the one who endorsed his logbook for solo. I had looked forward to this moment for a very long time. I recall watching a friend solo his son back in Sierra Vista six years ago and it was an emotional moment, now it was my turn but things were moving so quick and we were both so focused on the task that there was little time to relish the emotional aspect of it all.
With the three landings completed, the logbook endorsed, I told Carson to drop me off on the taxiway. It was time for him to go solo. About that time, as if on cue, flight school students started descending on the airport. In addition to the traffic I was concerned that the students would fly undisciplined wide "bomber" patterns forcing Carson to fly outside of gliding distance of the runway and requiring a power on approach on final. He had practiced these before so he knew how to do them but it was just the thought of being forced off our game plan that annoyed me. Additionally most of the student pilots had such poor English speaking skills that they were difficult to understand over the radio. Had I any doubt in Carson's ability to handle these additional complexities I would have called the whole thing off, but I knew he could do it and it would build additional confidence in his own abilities especially once he started operating out of our home airport, Deer Valley, the busiest GA airport in the country most years. I carried a handheld aviation radio with me and assured Carson I would intervene if I saw anything potentially unsafe developing.
With me out of the plane Carson collected his thoughts and came to terms with being on his own in a powered plane for the first time. He cleared the approach path, pushed the throttle forward, and trundled onto runway 23. He pushed the throttle to the firewall and 31J briskly accelerated, leaping into the air and climbing quickly, happy to be free of my additional 170lbs. I had warned Carson that performance would be better than he had experienced in the past but when he actually felt it he laughed out loud. That much weight difference in a 100hp airplane is very noticeable.
The first landing was textbook, mains touching first followed by the nose, well inside the 1000 foot markers. Because of the other traffic Carson was forced to do touch and go's which can be tough in a 150G with electric flaps that require holding the flap handle up during the long retraction period. At one point in his three takeoffs and landing he had four airplanes in the pattern with him including one instructor who just disregarded all of the normal protocol and did a straight in approach. The wind was about 8 knots with a slight right crosswind component that was enough to be felt on landing. The second landing looked great. One more to go! Wish my first solo landings looked that good. My second solo landing was so bad I was just hopeful that I could get back down in one piece for the final landing. Carson was making it look easy. By the last downwind the pattern was so full of traffic I think Carson was having a hard time keeping track of it all. The plane ahead of him flew so far downwind before turning base that Carson lost sight of him. While the other plane was on over a mile final approach Carson started a much more appropriate base turn inside a half mile. As he started the turn I immediately advised him of the conflict and he quickly corrected back to the downwind. A long final approach ended in a third perfect touchdown. We were so crunched for time there was little time to celebrate, I just jumped back in the plane and we were off again. Carson was so exhausted from the stress of both a checkride and a solo that he asked me to fly us back to Deer Valley, something I completely understood.
We flew under the Phoenix Class B via the east route, a first time for me and interestingly scenic as we flew around Camelback Mountain and the huge mansions of the Scottsdale elite. We landed back at KDVT around 2:45. I had to be back in Safford by 5PM for the start of my night shift. It was time to cut the shirt tail off of his t-shirt. He was happy to have the ventilation after all the sweating he endured on this day. The rest of the family was waiting for his arrival at Red Robin to celebrate his birthday and the accomplishments of the day. Carson's flying for the day was over but mine were just beginning. I could only stay for the dinner celebration a short time before I had to get back to the airport and return to Safford. I did not get airborne until 4PM. I was hopeful that I would not get a call at the start of my shift as it takes 1:30 minutes to fly to Safford on a normal day. I got about as unlucky as you could on this day. At exactly 5PM dispatched called me for a flight to pick up a patient in Springerville. I was just east of the town of Globe and still 30 minutes away from Safford. Because this was a patient pickup we were supposed to be airborne within 30 minutes of being called. This was going to be impossible, I cringed and tried to make 31J go as fast as she could but the miles ticked by agonizingly slow.
By the time I finally landed in Safford the med crew had the plane out and I literally jumped out of one plane and into the next. Throwing my gear and uniform in the seat beside me. A few flips of switches and the turbo props were lit and spinning up. I felt like I was in NASCAR. I think I ended up being 15 minutes behind schedule on lift off but I made it up in the flight over to Springerville keeping the engines right up to max ITT. From Springerville we went to Phoenix Sky Harbor as I retraced ground I had now been over three times in one day. I got back to Safford around 10PM exhausted and was thankfully not called again that night allowing me to catch some much needed rest. The "Big Day" had lived every bit up to its billing.
[August 14, 2017]
Carson's First Written Passed
______________________________________________________________________________________________________
After a week of intense study and review Carson took his first FAA Knowledge Exam, the Private Pilot Glider test. While the majority of study material out there is geared toward the airplane knowledge exam we were able to find a small glider dedicated study guide from David Seymour at www.gliderpilotsgroundschool.com. We used this guide exclusively for the study sessions. David keeps the guide updated frequently in print and between prints on his web site. While I am not a CFI-G I am an AGI (Advanced Ground Instructor) which allows me to endorse any pilot for any knowledge exam regardless of the aircraft type. That is another pretty cool advantage of getting your ground instructor certificate. After Carson was dominating his practice exams I knew he was ready and was proud to endorse his logbook for the exam. While quite nervous as this was his first FAA exam he sat down in the test room, focused, and executed the test taking game plan as discussed with one exception! He was out of the test center in less than 30 minutes and he earned himself a 98%. Wow, I was super impressed! So what part of the plan did he not follow? Well my strategy goes like this with knowledge exams: one, as soon as you sit down write down all of those formulas you might need that are swimming around in your head; two, go through the entire test answering every question you immediately know when you see it, if you are not sure or it involves math, mark it and skip it; three, return to all unsure questions and methodically work the problem by determining which answers are incorrect, often other questions you may have answered or material in the test book can help answer the questions; four, work all of the questions that require calculations, since they provide only three answers you can actually solve problems by inserting the answers into formulas, and finally number five, and this is the one Carson decided not to do but I guess did not really need to anyway, go back through each question and methodically read the question and review your answer, we sometime read the question or the answer wrong, this is where you catch the mistake. You have two hours to take the test, you get no extra points for finishing early so use the time to your advantage because if you are truly prepared to take the test answering the 60 questions will only take about 30 minutes of that two hours. So Carson rocked the test and interestingly enough this is the same score I received on my first FAA knowledge exam so I guess we have got a competition in the works. I'm glad I'm done with knowledge exams, I think I've taken about eight of them over the years. Now Carson focus is on preparation for the oral and checkride which is approaching quickly.
[August 4, 2017]
Always My Luck
______________________________________________________________________________________________________
While the last few days weather while on flight duty have been rather tame in comparison to the past eight weeks, Arizona is on track for a record setting Monsoon season. Not surprising since this is the first year I'm almost obligated to fly in all but the worst weather. This comes as no surprise as my first winter flying air ambulance was one of the worst winter wise in recent state history. Monsoon season typically runs from June 15 to September 15.
"TUCSON - A month and a half into Monsoon 2017 & rainfall is on pace to make history. Buoyed by the wettest July & second wettest month on record, Tucson has recorded 6.80" of Monsoon rainfall through August 1st. This cements the 4th straight Summer storm season with above average Monsoon rainfall in the Old Pueblo. Through July 31st, this year's Summer storm season is currently on track to break Tucson's all-time Monsoon rainfall record of 13.78" set in the Summer of 1964."
After getting pummeled with back to back flights the second I came on duty for the week and had no flights for five days straight. This allowed me to really concentrate my time on working on the RV-8. I finally got the rudder completed on Saturday, another small milestone as I eat the elephant. My builder assistant is upset with me for taking so long to get these tail feathers completed. I can understand where he is coming from because he charged a fixed amount for the assist on the tail feathers and he probably expected that process to only take a few months. I explained that I a not in a race to get this airplane done, I'll work on it when time is available and will always keeps the ball moving forward if only inches a day, I will keep moving forward. We will probably have to work out a monthly fee for shop use and his technical support, which is perfectly fine with me. This is about the journey not so much arrival at the destination. On that note my airframe and metal working skills are expanding rapidly. It is great to be learning so many new things. My tool collection is also growing rapidly with the addition of an air drill, pneumatic rivet gun, and band saw. I add new items monthly as I grow my workshop with the goal of doing my building in my own shop.
Safford is crawling with giant green/yellow caterpillars. They are absolutely everywhere. My entertainment on the five miles stretch of desert road to the airport has become running these things over. Never saw these in Douglas or Sierra Vista. Must be a Safford thing, who knows which of the seven plague these things will morph into in a few weeks. We have already had fire on the mountain, thunderstorms, scorpions, rattle snakes, and tarantulas. No embellishment here, I could not make this stuff up if I tried!
[July 25-29, 2017]
Oshkosh - AirVenture 2017
______________________________________________________________________________________________________
After a five year absence Carson and I made the obligatory pilgrimage to Oshkosh, the Mecca of general aviation. We once again flew commercially pushing back one more year the bucket list item of flying ourselves to Oshkosh. While in the past we have stayed at hotels this year we decided to stay at Camp Scholler which is on the grounds of the airport. This has to be the best deal going as far as affordable accommodations. EAA charges $27 a day to camp which really is only $17 when you factor in the $10 parking charge for driving in each day. But you of course give up a lot of conveniences by roughing it in a tent all week. This includes bare bones shower facilities, port-a-potties, and no electricity to charge all those electronic devices we so depend on. My least favorite aspect of Camp Scholler is the lack of defined camping spaces, essentially its a land grab from the time they open the gates and many people create their little kingdoms at the expense of little real estate available for those of us who don't show up a month prior to Oshkosh. Since we showed up on Tuesday evening we ended up finding a camping space out the outer perimeter of the camp ground. Staying at Airventure late, waking up late, not having to deal with traffic, and being within walking distance of the front gate was certainly a major benefit of the campground option. I like to go to AirVenture early in the week and leave before the weekend. This avoids the really crowded period which starts on Friday and runs through the end of the show. It also allows you to get most of the cool merchandise before it sells out, which starts to occur around Wednesday. This year we restocked our aviation t-shirt collection. Between the two of us I think we bought 15 t-shirts! Of course some of the really cool one's were already sold out by Wednesday.
Some of the highlights of this year's AirVenture: reunion of the living Apollo astronauts, Two flying B-29s (Doc and FiFi), and the Blue Angels (first time at Oshkosh). The set up for the event did not look much different from five years ago, as they have it almost perfected at this point. Well let me take that back, you have to walk way to damn much at Oshkosh. Even with running shoes I had blisters after just day one, they got worse over the week which impacted my ability to enjoy myself fully. My perception was that there were less planes than in year's past, but that is not a fact. This year's visit took on new significance given that I am now an RV builder. We spent more times with vendors talking workshop tools and avionics as well as perusing the number of RVs that flew in, with an eye toward build quality. This was our first year catching the night airshow which was cut short by torrential rain that thankfully abated after 20 minutes but not before the show was canceled.
I have a feeling that next year's Great American Cross Country will be flying to Oshkosh in our plane. After four trips to Oshkosh it's really the only thing left to do. I figure it will take us about two days on both ends and that is on a leisurely schedule. I want to arrive on Sunday and probably leave no later than Thursday.
[July 24, 2017]
How Much Can You Do In One Day?
______________________________________________________________________________________________________
It's Monday, last day of flight duty, tomorrow we are off to Oshkosh. The night pilot has agreed to cover for me starting at 3:30pm so I can fly home and pack for the trip. I woke up at 5AM to meet my student at the airport for his big first solo. Always exciting and even more so since this will be the first student I solo in my own airplane. Winds are light, its overcast but the ceilings are plenty high, perfect day for a solo. We do three or four laps in the pattern together and I am sure he is ready to go on his own. I jump out with my handheld radio and take up position alongside the runway like the landing officer on an aircraft carrier. This is where I feel most comfortable and still in somewhat control of the situation even if in a very limited capacity. He makes his circuits and executes a beautiful landing. Mission success, I cut the tail off his shirt and congratulate him on a major milestone. We are off to a great start for the day. Afterward I head over to the RV hangar to work on my rudder. I'm about an hour in to my building when the first call comes in for a medical flight. I tell my assistant I'll be back in three hours and head to the hangar to prep the Turbo Commander. The weather is already turning crappy fast, lots of stratus layers and thunderstorm activity all over the state. I fly up to Show Low and have to end up flying an approach into the airport, the ASOS is reporting thunderstorms at the airport but they are just off to the north. We go through some heavy rain before breaking out at 1000' ft AGL. A plane behind me decides to divert to Springerville because of how nasty the NEXTRAD picture looks. We quickly gather are patient and blast off with thunderstorms only a few miles from the airport. More crappy weather all the way to Phoenix with plenty of IFR flying enroute. Phoenix is just recovering from a vicious thunderstorm that moved through the area a few hours before causing flooding throughout the metro area. We land at Gateway and before my med crew has even returned I'm asked to fly into Whiteriver. Whiteriver has no instrument approaches, if you can't get in VFR you can't go. I look at the still crappy weather on Foreflight and call Whiteriver's ASOS. It's marginal VFR. If it where night I would say no way, but since it is day time I can at least attempt to take a look. That is the deal I make with dispatch, we will try to get in VFR, if we can't we will head back to Safford. The Phoenix weather by this time was pretty good with only scattered clouds, but east was multiple layers of stratus with the low stuff settling in the valleys and obscuring the mountains. We headed out staying low and really had no problems until about 20 miles from Whiteriver when the visibility started to decrease to about 5 miles. We continued on and the marginal conditions held, light rain started as I maneuvered for a left downwind entry for runway 19. This is when I realized I could certainly get in but would the weather hold long enough for me to get out? Something to keep in mind next time. Fortunately we only had to wait 30 minutes for the ambulance to arrive and the weather remained dreary and static for the most part. We blasted out and headed back to better weather to the west remaining VFR all the way and making for a scenic flight around the Superstition Mountains as we headed into Falcon Field. By now it was pushing 3PM, so much for getting home at a descent hour. Not until 4:50 PM did we arrive back at Safford. In our absence the town had taken its own abuse from the weather, little lakes of standing water dotted the area around the airport perimeter making it almost unrecognizable. I hurried to gather my things, load my plane and blasted off once again in my own plane for my third trip back to Phoenix on this day. 100MPH feels really really slow when you have been flying around at 230 knots all day. Fortunately the crappy weather was finally releasing its grip on Arizona and I was able to navigate my way around most of it to get home by 8PM. By the time I had everything packed for Oshkosh it was 11PM and I needed to be back up at 4:30AM to catch our flight. What a day!
[July 22, 2017]
First Diversion
______________________________________________________________________________________________________
Yesterday I passed my first 6 month checkride, known in the Part 135 world as the 297 ride which refers to Part 135.297 Instrument Proficiency Check. Today I left out of Phoenix with a radar picture showing Safford clear. That changed rather dramatically within 30 minutes as a fast moving intense thunderstorm slammed the airport and city. Tuning in the automated weather I was shocked to hear wind gust in excess of 40 and the word "squall." I decided a diversion was the safest course of action so we headed 30 miles south to Willcox. We were only on the ground about 10 minutes with the engines still running when the other duty pilot sent me a text saying I had made the right move and that the storm had passed but another one was no far off giving me a brief window to get back to base. We immediately took off and made a full speed sprint direct to Safford. The main thunderstorm was over the town and it was nasty for sure, a smaller storm was not far to the north east. We got in without issue, only to be called for another flight as soon as we landed, but it would have to wait. We needed fuel and the lightning was too close to the field for the fuel truck to provide the service. This was just fine with me.
[July 19, 2017]
Monsoon Flying
______________________________________________________________________________________________________
Heavy rains last week put an abrupt end to the multiple wildfires in Southeast Arizona. The fire on Mount Graham is out and the ad-hoc fire fighting base that consumed much of the airport's resources is now a ghost town. Even the two Ag Tractors that arrived here in late May have left. I'm happy to see that the TFRs that dotted our digital sectionals have all but disappeared. Safford is back to being a sleepy little airport, just the way I like it. Monsoon season is now in full swing and with more and more experience flying around thunderstorms, especially in the daytime, I am becoming more comfortable and less stressed. One of my favorite tools with this process is an app called Storm by Weather Underground. What Storm does that most other radar apps does not is show you direction of winds graphically, the projected movement of thunderstorm cells and range finds to show location of cell movement in increments of 15 minutes. Since most calls from dispatch occur 50 minutes prior to an actual flight a GO/NO-GO decision must be made not on the conditions at the time of the call but what the conditions will be like almost an hour later. This app allows me to make a better decision, especially when cells are within striking distance of the airport but current conditions are clear. Flying with thunderstorms present along the route has also allowed me to better interpret actual conditions with NEXTRAD and onboard radar depictions. What I have learned is that NEXTRAD often looks worse than actual conditions. Thankfully thunderstorms in Arizona are almost exclusively of the airmass type making visual identification and avoidance much easier as cells are usually small and isolated. Because our flights are short, 40 minutes max, the thunderstorm picture will not change dramatically and the strategy on the route to fly can often be made on a snapshot of the radar picture at the time of taxi. However changes in flight can be made with the Mark-1 eyeball, the onboard radar, and the NEXTRAD in essentially that order as the NEXTRAD information is five minutes old or older.
[June 29, 2017]
Carson's First Aerotow Solo
______________________________________________________________________________________________________
Almost a year and half after his first solo winch launch Carson earned his aerotow endorsement and went solo again being towed aloft by an Piper Pawnee on a blistering Phoenix afternoon. After releasing from tow he spent about an hour working the thermals around the area and climbing to over 7000' ft MSL in the SGS 2-33. Building PIC time and preparing for his glider private pilot checkride is the focus now, its just over two months away.
[June 20-26, 2017]
Embrace the Suck, 100 Hour Milestone
______________________________________________________________________________________________________
Record setting temperatures, thirty knot winds, a/c maintenance issues, thunderstorms, and the mountain in engulfed in fire, I feel like I am in hell but it's just another day on the line as a medevac pilot. Phoenix has set record high temperatures for the last three days. Airlines are canceling flights into the city because the temps are outside of operating limitations, but we continue to fly. One of our other pilots gets stuck in Scottsdale because they refuse to pump jet fuel when the temperature exceeds 115 F. I get lucky for two days and don't get any flights. Yes you heard right, you don't want to fly in this kind of weather regardless of how much you love flying. I spend the lull in action to review the Turbo Commander's temperature limitations and takeoff performance in extreme heat and density altitudes. These are good numbers to have handy right about now especially when flying into some of the higher elevation airports. Day three my luck runs out and I am called for a mission at high noon to fly into Phoenix. The air condition in the plane can't even begin to cope with the oppressive heat and we are all sweating like dogs in the heat. Sweat pours from my hands on to my flight worksheet making it difficult to write down anything. About now I revert to my military training and remind myself to just "embrace the suck" which essentially means you can obsess on how miserable you are or you can just accept it, deal with it and work through it. I do the later as five pounds of water weight is shed from my body over the course of the two leg hop that lasts about an hour. I'm just thankful that there is no thunderstorm activity in the area. It can ALWAYS be worse, remember that. The maintenance gremlins come out to play to ensure my workload of flying into busy airspace is as exciting as possible. Every time I press the push to talk button the autopilot pitches the airplane down five degrees. The Turbo Commander is not liking the heat and its once great performance is now anemic, climbing at only 500ft per minute, eating up gobs of runway on takeoff. Here is the METAR at Phoenix when we land: KPHX 222051Z 26012G16KT 10SM FEW120 43/09 A2969. 43C, that's 109F. Embrace the suck! After returning from the flight I realized I have now passed a milestone, 100 hours of turbine time. I'm no longer what they call a "baby captain" who have slightly increased approach minimums per FAR 135.225.
Work continues slowly on the RV-8. A few weeks ago I finished the vertical stabilizer which felt like a real accomplishment. I took back home to hang it up in the garage. I started work on the horizontal stabilizer this week and made my first big mistake which ended up costing me $70 in replacements parts. As many times as I reviewed the plans and double and triple checked the part placement I still ended up drilling holes where they did not belong and instantly created scrap metal out of three parts. A hard lesson learned, measure twice (in this case three times), cut once. While I wait for the parts to come in I will switch focus to the rudder. I feel I've made a lot of progress in just learning the basic metal working skills required to build an airplane and the repetition of using these skills is leading to improvement each day.
MISSION COMPLETE!
The Great American Cross Country IV At A Glance:
Distance Flown: 1,318 Nautical Miles
Airports Visited: 8
Total Hobbs Time: 17.7
Fuel Used: 103.6 Gallons
Average Fuel Burn: 5.85/Hr

VIDEOS:
PHOTOS:
https://timsaviationadventures2011.shutterfly.com/7613
[June 14, 2017]
GAXC4 - Day 1: Deer Valley, AZ to Livermore, CA 601NM
______________________________________________________________________________________________________
Day one of the Great American Cross Country number four. We get an early start, its June in Phoenix and temperatures will soar rapidly after sunrise. The heat will last for some 300 miles to the west until we drop in to the San Fernando Valley in California and even still the temps will be high. At 0603 the tower clears us for takeoff and a very heavy 31J lifts off without hesitation onward and upward on another grand adventure. This leg of the trip is the one I like least, its essentially just desert expanse from Phoenix to Apple Valley, California and a route I have flown so many times I've run out of stuff to look at. Carson is the pilot for this leg, he intends to fly the entire route to San Francisco building his time. We cross the Colorado River into California. It's the only patch of green we see along the entire route. At 0852 we touch down at Apple Valley. It's still cool out, the plane is operating magnificently. We take on 20 gallons of fuel and quickly get back into the air. We fly on to Mojave Space Port, flying south of Edwards Air Force Base but close enough to see the long dry lake bed runways once used by the Space Shuttle. This is our first trip to Mojave. We know it is a significant place in aviation and space history especially in the recent past. The launch site for Space Ship One, once home to Burt Rutan, still home to Scaled Composites. An article in last month's Smithsonian Air & Space magazine on Mojave motivated me to make it a last minute addition to the XC plan. We are headed to the airport cafe, Voyager Restaurant. Mojave is another storage area for mothballed airliners and rows of 747s come into view as we prepare to land on RW26. At the restaurant Carson tackles the $200 Hamburger. It's a mountain of meat and he struggles to finish the burger but enjoys the challenge. There is memorabilia on the walls of the Voyager round the world flight. We talk about meeting Dick Rutan at Oshkosh a few years ago.

After brunch we take on a few more gallons of fuel for the next long leg of the trip. On the taxi out we finally catch a glimpse of something unique: Proteus. From Wikipedia: "The Scaled Composites Model 281 Proteus is a tandem-wingHigh-Altitude Long Endurance aircraft designed by Burt Rutan to investigate the use of aircraft as high altitude telecommunications relays. The Proteus is actually a multi-mission vehicle, able to carry various payloads on a ventral pylon. An extremely efficient design, the Proteus can orbit a point at over 60,000 feet for more than 18 hours. It is currently owned by Northrop Grumman." We takeoff on RW8 and make a turn to the south which allows us to fly past another unusual tenant of the spaceport, Stratolaunch Systems. We only see the hangar but inside sits Stratolaunch's carrier aircraft with the largest wingspan of any aircraft, 385 ft and six P&W jet engines. It looks very much like White Knight on steroids and is gargantuan.

We hop into the San Joaquin Valley south of Bakersfield and the ground drops away below us. Now the scenery becomes a little more interesting. Since we had traversed the valley a few years ago on GAXC2 I tell Carson to take a different route staying close to the mountains on the east side of the valley. The flight continues uneventful as we pass the time talking about pretty much everything. Mount Whitney, the highest point in the contiguous 48 states (14,505'), passes in the distance off our right wing. The weather is absolutely perfect, not a cloud in the sky during the entire flight and even an unheard of easterly wind aloft that gives us a tailwind. Way off to the north we see the snow covered peaks of the Sierra Nevada range. East of Fresno we start to turn westward for the final push to Livermore. I've calculated a fuel stop short of our destination at Tracy. The fuel is a buck cheaper than Livermore and we will need almost 20 gallons at the limit of our range. Thus commenced the only hiccup of the whole day but luckily one from which we recovered quite quickly. Carson put us down nicely at Tracy (TCY) on RW 30 and we taxied off. I notice construction going on in the ramp area but from my vantage point it appears the fuel storage tanks are outside of the construction zone, we taxi to the storage tanks but then find that the fuel pumps are well inside the construction area with absolutely no access. I'm frustrated, I don't recall a NOTAM about this during my preflight planning. But in the end I was in the wrong, the construction had started that day and the NOTAM had been posted but I had failed to check the NOTAMS again just before the flight. A really bad coincidence but very thankfully one in which was recoverable because Livermore was only 15 more miles to the west. We did not have a much fuel but we had more than enough for such a short hop. Better to pay more for gas than to be stranded short of our destination. Taking off one more time we fly for only eight minutes before contacting Livermore (KLVK) tower, our final destination. Cleared straight in for 25R we overfly Lawrence Livermore National Laboratory on the outskirts of town. I wonder how many of those 200lbs brains below me know how to fly an airplane. We settle down on the mains at 1433 local after logging about 7.3 of Hobbs time, Carson flying the entire route. We park at Fiver Rivers Aviation FBO and our car is waiting for us. The folks at the FBO are super friendly and treat us just as good as if we had pulled in with a G5. I always appreciate that! After eating an early dinner we buy the supplies we need for the trip at a local Walmart and Big 5 and then head north to Mount Diablo State Park where we will camp for the next four days.

[June 15, 2017]
GAXC4 - Day 2: Downtown San Francisco, Robbed!
______________________________________________________________________________________________________
After a night on Mount Diablo we make the drive to downtown San Francisco. No flying or aviation related activities today. We visit the Golden Gate Bridge Welcome Center and walk to the first tower. A helicopter flies under the bridge, and Carson wonders aloud if we can do the same. The rivets used in the bridge are ridiculously large compared to the little 4-5 rivets I'm using to build my RV-8. I don't envy the guys who had to drive those rivets. We visit Madame Tussouads Wax Museum and Coit Tower before catching a ferry out to Alcatraz. We have to leave the city by 6:30PM to fight traffic in order to get back to Mount Diablo before the gates close at sunset. This was a small detail I had missed when planning the trip and makes staying at the park a little less attractive. Back at camp we are standing around the open trunk of the car discussing the day's events when a raccoon sneaks up on us and spooks us. We jump back from the car giving him just enough time to jump in our trunk, grab our entire bag of chips and run off to the safety of the nearby thickets. For the next hour we hear the raccoon opening up bag after bag of Frito Lay products and chomping loudly enough to remind us we got robbed. You can't make this stuff up! Tomorrow we are staying at a hotel.
[June 16, 2017]
GAXC4 - Day 3: Silicon Valley and Moffett Field
______________________________________________________________________________________________________
Friday we head south down to Silicon Valley/San Jose and check out the small but interesting Intel Museum before heading over to Moffett Field and Hangar One. Moffett Field was once the epicenter of US airship operations, specifically the Navy used them in the role of long range fleet reconnaissance. After more than a few accidents the airship got tossed in the dust bin of aviation right alongside gyro copters. I have always been fascinated by the shear size of airships and wanted to see the massive airship hangar, Hangar One up close. Hangar One's skin was removed a few years ago but the underlying structure still remains with the intent of replacing the skin after hazardous waste is removed from the structure's site. It is quite impressive and while you can't go into Hangar One you can get pretty close to it as the museum is located right next door. Hangar's Two and Three are on the other side of the airfield and not accessible to my knowledge. The museum itself was small and a little disappointing. Only about a quarter of the museum was dedicated to the history of the airships, the rest of the museum just seemed to be a disjointed display of whatever anyone wanted to donate to the museum who had been stationed at Moffett in the past. It took less than an hour to see everything and then we went out back to the static aircraft display that was locked behind a fence. Here we found a real gem, Lockheed U-2 NASA 708, serial number 80-1069, sporting a tail hook making it a U-2G. The museum claims that this aircraft was used as part of Project Whale Tale, the CIA operation to carrier launch U-2s to monitor French nuclear test in the South Pacific in 1964, but from my research I can't say that claim is actually true. None the less it is an interesting bird. You can read more about this very unique application of the U-2 and see actually video at the following link: https://theaviationist.com/2015/06/28/u-2-carrier-operations-story/
Just down the road from the Moffett Field Museum was the NASA Ames Research Center Visitor Center. Really not much to see here either except for an Apollo 15 moon rock and the first unmanned Mercury capsule to go into space. With some time to spare we headed over to the sprawling campus of Google Headquarters to look around and see all of those 20 something employees riding their multicolored Google bikes. From Silicon Valley we headed north up Interstate 280 to Mussel Rock Park near Pacifica to see the Pacific Ocean and watch a paraglider launching from the cliffs try in vain to gain altitude off the lift from the ocean breeze. We headed back to downtown San Francisco where we visited the Cable Car Museum, Chinatown, and had some wood fired pizza for dinner down at Fisherman's Wharf before driving back to Livermore to stay at a very comfortable hotel for the night.
[June 17, 2017]
GAXC4 - Day 4: Bay Area Aerial Tour
______________________________________________________________________________________________________
Today we are back in 31J for the much anticipated bay area scenic flight and a glorious weather day it was. Blue skies and no clouds. We depart out of Livermore for a short hop over the rolling hills to the southwest of the airport and and across the San Francisco Bay to San Carlos (KSQL). The airspace is complicated here with KSFO Class B, San Jose and Oakland Class C, and multiple Class D airports. We stay below 2,000ft and thread a gap between the two Class C airpsaces and Palo Alto's Class D by crossing the bay just north of the Dumbarton Bridge. Carson is flying and I am navigating. Because of the complexity of the route I had flown this leg several times in the flight simulator. It made identifying San Carlos much easier. We made contact with the tower as we passed the KGO radio tower and were cleared to the cement plant to perform a right base to runway 30. I talked Carson through an extended right base approach which was not the usual full pattern approach he was used to. For students it can be challenging to determine what altitude and configuration they need to be during these types of approaches which lack the structure and lock step of a full pattern approach. I told him to imagine a window at 500ft a half mile from the runway and do whatever he needed to to be at altitude and fully configured when he reached that point in space. This location is typically where one would turn on to the final approach. He nailed it of course. We had chosen to visit KSQL because it was the home of the Hiller Aviation Museum. My pre trip research from the museum web site said to ask for parking in the northwest transient parking area which was only a short walk to the museum. Unfortunately the info was dated and transient parking no longer existed. We were directed to the main GA terminal to park which is on the opposite side of the airport from the museum. A repurposed fire truck which belonged to Airport Operations pulled up after we shut down and offered to give us a ride across the field to the museum. Awesome, we eagerly accepted the offer.
A little bit of background of the Hiller Aviation Museum from their website:
"The Hiller Aviation Museum was founded by helicopter pioneer Stanley Hiller Jr. and opened to the public in June 1998.
The Museum can trace its origins to the 1970s. A group of eclectic aircraft, collected by Stanley, was gathered in a warehouse in Redwood City but only accessible to the general public by special appointment. The growing collection consisted of unique early aircraft, one-of-a-kind prototypes, and cutting edge test vehicles, some of which came from the Hiller Aircraft Company between 1944-1964 as well as other manufacturers.
The importance of an adventurous and innovative spirit is evident in the aircraft collection. These traits were Stanley's hallmark over decades of invention as a helicopter manufacturing pioneer. They reflected Stan's own participation in Northern California aviation history in which he produced innovative aircraft the world had never seen, from personal flying platforms to ramjet tipped rotorcraft. "
Hiller did a lot of work with helicopter development and the museum reflects this in its collection. Of course the coolest Hiller concepts were the flying Jeep and the flying infantryman platform from the 1950s. Without too much imagination I could see the Starship Trooper concept almost within their grasp at the time. Had precision electronic gyros of today been available I believe Hiller's idea would have been successful. Instead history would embrace a watered down version of air mobile infantrymen with the Huey and Air Cavalry. The centerpiece of the museum in the Grumman Albatross which recreated Amelia Earnhardt's attempted around the world flight in 1997. I did find some real gold nuggets in this museum. The first is the claimed original helmet worn by Eugene Ely when he made the world's first carrier landing in 1911 flying a Curtis Pusher over San Francisco Bay. The museum also holds the Boeing Condor, a massive drone which was the first to fly and land autonomously. And this occurred back in 1988! The historical significance of this aircraft may not be realized for many more decades. I love engines and the museum houses many but no more rare than the one and only Lockheed XL-1, one of only two engines that the Loughead brothers ever built. Carson remarked at the large number of flight simulators that were scattered throughout the museum, so many in fact that the simulators may have been the main attraction at the museum and not the aircraft. Carson found a 777 simulator and proceeded to fly several short final landings in to KSFO. We made a stop at the gift store and Carson talked me into purchasing a Airbus A380 that flies around in circles attached to a string. He got such entertainment out of convincing me to buy it that he laughed about the entire rest of the trip.
From KSQL we were headed to Half Moon Bay, again another short hop. KHAF had been on our visit list back in 2015 when we flew to Washington. On that trip marine layer had socked the airport in with 600ft ceilings. We over flew the airport without ever having seen it. Now we were going back and the weather was perfect. But first we had to get out of San Carlos and this was a little confusing for this transient pilot. They have you taxi to a runup area well short of the hold short line for RW30. Once
the run-up is complete you contact the tower and receive a takeoff clearance which then requires you to taxi for a thousand feet or so to reach the runway. This was all foreign to anything I had done before and I'm sure my repeated calls annoyed the tower controllers but they eventually got me straight and on my way. In just eight minutes we were at the Pacific Ocean with Half Moon Bay in view to the north. KHAF is a beautiful little airport right on the Pacific coast, it's hard to believe the airport is still around occupying such lucrative real estate. Traffic was in the pattern and another plane was somewhere closing from behind us. The wind was blowing 320, 18 knots gusting to 23 knots. RW 30 was almost aligned with the wind but a right traffic pattern and the proximity of coastal mountains made it a rather tight fit approaching from the southwest. As we came over the runway our ground speed was so slow it would fool the uninformed as to how we were still flying. We touched down with a ground speed of only 30 knots. Another confidence building landing for Carson, landing in strong winds was something he could do and he proved it to himself.
At Half Moon we made it into the Three Zero Cafe on the field just 30 minutes before they were scheduled to close. Great timing! The cafe is the typical American airport cafe, it smells greasy, there's lots of memorabilia hanging on the walls, and at least an entire air force of plastic models dangling from the ceiling. And I love every bit of it and take a moment to savor all of it while munching on overdone French fries and gulping down a Dr Pepper. We purchased a couple of cafe branded shirts to remember our visit and then return to the plane for the most anticipated leg of the flight, overflying the Golden Gate Bridge. Carson decides to shoot one more touch and go at Half Moon Bay before we start heading north along the coast line. The wind is still blowing strong but other than that the weather is perfect. He executes another great landing and we have decided to leave at the right time, there is a line of three aircraft holding short waiting to take off. We climb up to 1200ft and follow the coast just off shore. We round San Pedro Rock south of Pacifica and suddenly find ourselves 2 miles over the ocean as the shoreline retreats northeastward. I feel a slight sense of discomfort being low, out of glide distance from shore, and in a single engine airplane. I have Carson inch closer to the coast. At about the same time he spots a whale on the surface. We try to get a picture but the whale disappears as quickly as he appeared. The coastal mountains start to give way to the defined grid of civilization and the outskirts of San Francisco, in the distance to the north, across the mouth of the bay, rises Mount Tamalpais. The twin dark orange spires of the Golden Gate Bridge begin to reveal themselves. Everything is perfect and we are the only plane in the sky. While millions of visitors on the ground are sharing a view of the city and the bridge we own our vantage point from 1200 feet all to ourselves. We can change that vantage point at will, not restricted by traffic or natural boundaries. We jump from one shore line to the other with little more than a flick of the yoke. We are not confined by defined pathways as in the car, we make our path to our liking. We cross directly over the bridge and move into the bay. Carson is too busy flying to enjoy the sights. He flies us over Alcatraz and then skirts the Oakland Class C to the north making landfall just west of Berkeley. Mount Diablo is the most prominent landmark far to the east and we use it as an aim point to make our egress from the bay. As we continue the built up areas begin to fade, replaced by large stretches of golden hills. There is no doubt that California is a beautiful state. Our destination is Byron Airport for, you guessed it, cheap gas. Byron is far from the urban sprawl, mostly farmland, and this time of year, fields of gold.
Other than some skydiving operations not much is happening at Byron when we pull up. It;s really hot here, no coastal breeze this far inland. While fueling an Ercoupe pulls up and I have a great conversation with the pilot. Having over 100 hours in the Ercoupe it's always easy to engage in conversation on the unique flying qualities of such a great little airplane. His passenger mentions he has seen some of my Ercoupe videos on YouTube. It is not hard to achieve celebrity status in the age of the Internet. From Byron it is a very short hop back to Livermore which is our final destination for the day. Total flight time for our bay area tour was 2.5. It was certainly the flying highlight of the trip and brought finality to GAXC2 back in 2015 when marine layer conspired to keep many of the sights from our view. Its 4PM when we get 31J tied down, but the day is far from over. We can rest when this trip is over, but not now.
From Livermore we drive to Muir Woods National Monument to be among some of the oldest trees in the US. We make it to the Golden Gate overlook just prior to sunset and explore the abandoned remains of Battery Spencer before driving across the Golden Gate Bridge and back into San Francisco. By 9:30PM we are famished from the long day. I finally get my sourdough chili bowl from Boudin Bakery, twenty years since my last one. Leaving the city we drive by the windy road on Lombard Street, it's 10:30PM and the street is empty so we drive it. It's close to midnight by the time we arrive at our hotel in Oakland. We certainly made the most of this day.
[June 18, 2017]
GAXC4 - Day 5: Oakland Aviation Museum, Cable Cars, and Redwoods
______________________________________________________________________________________________________
Saturday night we stay at the Marriott near Oakland Airport. The guest service desk has a picture of Amelia Earhart next to hear Electra. Oakland is where Amelia started her fateful round the world trip. It is nice to see a corporate entity honor the aviator in such a way. The next morning we head just down the road to the Oakland Aviation Museum. It's a small museum and I don't expect much but there is no excuse for bypassing a nearby aviation museum when you are on the Great American Cross Country. The museum is located on the north side of the Oakland Airport which appears to be the original location of the terminal as there are art deco buildings that must date back to the 1930s. Lots of history here, you can almost feel it. At $12 admission for adults the museum is way overpriced. There is little of anything of interest in the museum's collection and most information displays are poorly presented. I found only two planes that captured my attention. The first was a 1933 Boeing T-3, a rather odd looking airplane that was used as a concepts platform up until the 1960s. The other plane was a flying boat, the Short Brothers Seaford S-45 (essentially an upgraded Sunderland). This being the third Sunderland I have seen, the first at Kermit Weeks Fantasy of Flight in Florida, and the other at the RAF Museum in London. The Sunderland's are impressive in size but would never hold a candle to the beauty and size of the Boeing 314, unfortunately none of those still exist so we will just have to be content with the Sunderlands.
From Oakland we make our final visit to beautiful San Francisco, our time here is coming to an end. Carson wants to ride the cable car across the steep inclines of the city. After a 20 minute ride we are dumped across the other side of town, we Uber back to our car and begin a long drive south to Big Basin Redwoods State Park. Our last night in the bay area will be spent camping underneath majestic redwoods. I'm surprised to find that Big Basin is even more impressive than Muir Woods. Many of the trees here are 1,000 to 2,000 years old. That's a timeline that is hard to wrap your head around compared to our own lifespans. These trees were here long before us, will be here long after us, but on this one day in time they are ours to enjoy. Our campsite is perfectly located in a grove of redwoods. We cook out and eat hot dogs and S'mores while mosquitoes eat us. Tomorrow we are heading home, we hope there are no maintenance surprises.
[June 19, 2017]
GAXC4 - Day 6: Coastal Flying and Blistering Temperatures, 610 NM
______________________________________________________________________________________________________
The trip has been a great success up to this point, now we just need to get home. Big Basin is a good distance from Livermore and we would have to deal with bay area traffic so we got an early start. The drive was not too bad, the traffic in our direction light. The weather forecast was once again for clear skies, but the absence of clouds did not necessarily make it a milk run, we were going to have to deal with heat. Phoenix was forecasting record temperatures for the day, 116 degrees F, but landing back at KDVT was not the problem, the challenge I knew would be transiting the Mojave Desert where temperatures would be high as well. I anticipated issues with performance and oil cooling. The Cessna 150's Continental O-200 is not designed well to deal with heat, it has no oil cooler. Flying even at cruise speeds in air that is 90F will bring the oil up to red line. You really have to fly with finesse in the summer time to keep the engine from cooking. We would not take the most direct route home which would have would have had us once again crossing the San Joaquin Valley which now had the familiarity of the western Arizona desert, having crossed it three times previous. Instead we would take a more scenic route along the coast until just beyond San Luis Obispo where we would turn east toward the high desert and Apple Valley once again for fuel. Holding our collective breath Carson turned over the engine on 31J and she fired right up. At 0915 we were wheels up from Livermore heading southwest to the Pacific Ocean. We skirt the eastern edge of San Jose's Class C airspace then cross over Watsonville before reaching the coast line. We overfly Monterey after which most signs of civilization melt away. Now we straddle mountains and ocean.
There were stretches along the first leg where the coastal mountains came right up to the sea with the only meaningful landing area being the winding stretch of Highway One, not a great option. This situation again made me nervous, I think more so because Carson was with me. I'm not a fan of exposing him to undue risk. As a new pilot I remember my instructor telling me to always have an emergency landing location picked while flying cross country, so if the engine quite that would be your out. I tried this initially, but it was so much work that I soon gave up on the concept and instead droned around for years in single engine airplanes in blissful ignorance and trusting that the probability of an engine out occurrence so remote that I'll just take my chances. Even flying in mountain areas at night. Of course flying involves some level of assumed risk regardless of how you mitigate, but I have come to the realization over the years is that mitigation can go a long way in reducing the exposure time to higher level risk. Now knock on wood I have never had an engine failure so in that sense I am lucky to have acquired this wisdom without a significant emotional event. I have however had many minor mechanical failures in flight and on the ground that have collectively knocked some sense into my head. I will usually pick routes that take me over terrain and infrastructure that will support landing out. I almost unconsciously now know exactly where I will land during every minute of a flight. Sometimes these locations are small and tight but they are always close in gliding distance. Better to land under control in less than ideal location than to stall spin trying to stretch a glide to some better spot. I've always preached to my students, better to run off the end of some dirt road at 30 knots and collapse the gear than to stall spin trying to make it into a much larger more desirable landing location that might be just out of reach. You will survive the former 99% of the time, you will die in the latter every time. I feel absolutely no responsibility with preserving the plane. I make a pact with every plane I fly just before takeoff: " I will take care of you as long as you keep the engine running, if you fail to keep your part of the deal I will do whatever is necessary to take care of myself." If that means landing between two Saguaro Cactus and ripping both wings off in order to decelerate the aircraft and dissipate energy, than that is what I will do. Airplanes can be replaced, people cant. Energy kills and it does some really terrible things to the human body. You have to use every trick you know to dissipate it without is dissipating you. Enough on that, I leave the subject with this advice "always expect the unexpected" when flying.
About 45 minutes flying time from Monterey the coastal mountains begin a slow retreat eastward, replaced by gently rolling hills. Hearst Castle comes into view. Hearst Castle is a National Historic Landmark and California Historical Landmark mansion located on the Central Coast of California, United States. It was designed by architect Julia Morgan, between 1919 and 1947,as a residence for newspaper magnate William Randolph Hearst, who died in 1951. Hearst formally named the estate "La Cuesta Encantada" ("The Enchanted Hill"), but usually called it "the ranch". Hearst Castle and grounds are also sometimes referred to as "San Simeon" without distinguishing between the Hearst property and the adjacent unincorporated area of the same name. Invitations to Hearst Castle were highly coveted during its heyday in the 1920s and 1930s. The Hollywood and political elite often visited, usually flying into the estate's airfield or taking a private Hearst-owned train car from Los Angeles. Among Hearst's guests were Charlie Chaplin, Cary Grant, the Marx Brothers, Charles Lindbergh, Greta Garbo, Joan Crawford, Clark Gable, James Stewart, Bob Hope, Calvin Coolidge, Franklin Roosevelt, Dolores del Rio, and Winston Churchill. We circle the sprawling estate several times before continuing south.
Almost two hours after liftoff our first fuel stop is within sight, Oceano (L52). Right on the coast I thought this would be a memorable field to visit. A non-towered airport, Oceano is located near Grover Beach, CA and has a relatively short runway (2,300ft). I knew this would be a good experience for Carson. Cars and recreational vehicles were all over the beaches, I was a little shocked California would permit this. We landed on RW 29 with a final approach over an RV storage lot. Carson did an excellent job of keeping a normal descent angle while using short field technique to manage our airspeed so we did not float when we flared out. He did it so well that we touched down with zero float an almost seamless transition from approach to roll out. There
was not much going on at L52 this day, save for a nice yellow Stearmen and a J-3 Cub sitting on the ramp waiting to give sightseeing rides to anyone interested. We took on the minimum fuel we needed to get to Apple Valley, no sense in carrying extra weight when we were already near gross as is. The takeoff was uneventful and quick thanks to a stiff wind off the ocean, within seconds of leaving the airport we were over the beach and out over the ocean making a lazy left turn to return to an eastward heading.
Another two hours later we were back in the high desert and landing at Apple Valley. The cool temperatures of the coastal area were now replaced with the stifling dry air of the desert. Now the flying was going to become challenging. It was 2PM and KAPV was cooking at 105F. A local airport tenant, Roy or Ray, his name escapes me, came out to talk to use as we fueled. His hangar was nearby so he invited us over for a Coke. While we talked he showed up an amazing framed photo hanging on his wall. It was of a farmer on a tractor looking behind him at an English Electric that was nearly in a vertical dive with a pilot ejecting not more than a hundred feet from the ground. He claimed the picture was taken by a friend and by my examination it certainly looked authentic. Carson took a picture of the picture and I share it here. https://fearoflanding.com/photography/the-story-behind-an-unbelievable-photograph/
Now fully fueled, at gross weight, and dealing with a density altitude of 6,800 ft, we were going to attempt the last leg of GAXC4. The runway was certainly long enough, it was slightly down hill, and there were no obstacles beyond the runway so taking off was never in doubt. Thermals from the runway had us climbing at a good rate before the mid field point. This performance disappeared after as soon as the runway ended. We sat at 700ft not climbing at all, oil temperatures started rising rapidly. We needed to find altitude and cooler air quick or a return to the airport was going to be warranted. Luckily a thermal was not hard to find off a small dark hill just south of the airport. Centered up we climbed another 3000ft with the engine power pulled back a few hundred RPM. We were at 6800ft MSL but the temps outside were still 90F, the oil temp was not redlining. We needed to go higher. I found another thermal and climbed up to 9000ft were finally air temps below 80F were found. The oil temp needle released its grip on the red line and came ever so slightly back into the green. Now we could continue east. As we droned on towards Twenty Nine Palms our ground speed was agonizingly slow, 65-75 knots. We were dealing with a headwind heading east, almost unheard of! Oh our luck. Between the climbs for altitude and the headwind our chances of making DVT were starting to fade and we were losing altitude, descending into rising air temps, the oil temp was creeping back up. We needed a break! An hour and 15 minutes after takeoff we were just past Twenty Nine Palms and down to 5,500 ft. I needed a thermal badly at this point. I flew over a black rock mountain certain I would find lift and found nothing after three circles. I was at the end of my rope and frustrated, we were low, temps were in the red, making very little headway and then suddenly our luck changed.
Just east of the last thermal attempt the winds aloft shifted. Our ground speed climbed steadily from 65 to over 100 knots. And somehow, someway we were climbing again. By the time we crossed the border into Arizona we were at 8,000ft. Now the question was did we have enough fuel to make it all the way home? If the tailwind continued we could make it by the slimmest margins, but if they abated or changed we would not. I decided to head for Wickenberg, northwest of Phoenix. This would be the go/no-go decision point for fuel. The tailwind held to Wickenberg and even increased in speed. It had been almost three hours since engine start and we were close to dipping into our fuel reserves. I was torn between landing and continuing on. I was concerned if we landed at Wickenberg that we would run into the same temperature problems on takeoff that plagued us at Apple Valley probably even worse. Currently we were at 7000ft, temps were good and we were riding a tail wind. With DVT 40NM away I decided we would go for it. We covered the ground in 20 minutes as I intently watched the miles tick off the GPS. By the time we arrived in the pattern at KDVT it was almost 6PM. The usual pattern traffic of Chinese flight students was missing, it was too hot for even the flight schools to fly. We landed and never stopped moving as we exited on to the taxiway and straight to the hangar. The air was so hot there was no relief in the breeze of the open windows. It was hard just to breath. We had made it, our fuel gauges reading empty and later finding on a few gallons in the tanks. That we could never repeat. The Great American Cross Country had lived up to its billing as an adventure as it always had. The final stretch always holding the last surprises.
While GAXC4 was not nearly as ambitious flying wise as previous GAXC flights it will still be as memorable. It was a week spent between father and son enjoying the company of each other while exploring a beautiful country. In the end that is what GAXC is all about, the airplane and the flying are just the vehicles to facilitate this.
[June 6-12, 2017]
Monsoon Season Starting to Gear Up
______________________________________________________________________________________________________
WX Summary: Larger thunderstorms in New Mexico now, with activity starting in eastern Arizona. Wednesday thunderstorms throughout southeastern Arizona during the day, dying out by 8PM in the evening. No thunderstorms Thursday or Friday. Lots of forest fire activity this week, many TFRs throughout are area of operation. Activity at the airport has increased ten fold with the fire base AgCats flying sorties almost continually. Two King Airs and a Baron joined the fire attack base on Thursday.
[May 23-29, 2017]
Gremlins in the System
______________________________________________________________________________________________________
The first flight in the Turbo Commander after being off for a week is always exciting because I get to discover all the little squawks that someone should have warned me about beforehand! It's guaranteed to be even more exciting if the base plane was swapped while I was gone and any maintenance was recently performed. We have four Turbo Commanders and every single one is set up differently. Every one has its own unique nuances in control rigging, engine performance and behavior, and avionics and button placement and layout. In six months I've flown three of our four Commanders, today I got to fly the last one. I should have known this week was going to be "one of those weeks" when I had to beat the lock off the security door at the crew house with a hammer because someone had accidentally locked it and no one had a key. I did my preflight of the new plane spending a few extra minutes familiarizing myself with the layout of the instrument panel, this had bit me in the ass once before when I was on an ILS approach in a Commander I had not flown before and could not find the dang NAV/GPS button to switch to the localizer, fool me once! I then checked the maintenance log to see what recent work had been done. In my experience if anything was going to go wrong it was usually something the mechanics had recently dicked with so I wanted to have a heads up on what those things were. If the plane had not flown since the last maintenance entry this was a big red flag to make sure to be extra vigilant in completing the preflight checks of all switches. Mechanics like to pull breakers and move switches and never return them to their proper positions. Sure enough I found the aux hydraulic pump breaker pulled out. I muttered a curse under my breath and reset it. The maintenance log showed autopilot work had been done along with replacement of an antenna cable for the COM2. I made a mental note, don't trust the autopilot, be ready to shut it off. That afternoon we got a call to fly. Beautiful cloudless day except for the gusting 25 knot winds but hey you can't have everything! We blasted off and got knocked around by turbulence the whole trip, the flight nurse sits far aft in the cabin so all the yawing action is amplified ten fold, it was enough to make her toss her cookies. Despite that everything seemed fine until I tried calling approach and got no response in addition to no side tone in my headset. Here we go! At 230 knots I was going to be in Tucson airspace in less than two minutes, probably not a good idea without permission so I swung a 180 turn to buy time to work the problem. I spent a few minutes troubleshooting before finally cycling the com select switch and getting everything back on line. Was it just a fluke, everything seemed to operate fine from that point on. We got in touch with approach and flew the rest of the flight uneventfully. But the problem was not fixed and I found that out on the way back while still in Tucson airspace. I switched to approach and could not make contact, I frantically tried my previous fix of cycling the com select and it did not work. I could hear Tucson but they could not hear me, I resorted to squawking 7600, the code for no radios. The controller observed the squawk and told me to ident if I could hear him, I did and he acknowledged. I remained at my last cleared altitude until out of the Class C and then started to climb while continuing to troubleshoot the radios. I got them working again and then they went out again. This is the absolute worst when a maintenance issue is intermittent because the maintenance folks will just think your crazy or lying and will write "cannot duplicate" just so that you can find yourself in the same predicament on the next flight, cursing the plane and the mechanics and longing to able to just concentrate on the art of aviating and not coaxing a bucket of bolts held together by bailing wire and bubble gum from point A to point B thankful you were just able to pull it off one more time. This is the reality of what we do.
On Friday I had to fly up to Show Low to pick up the Dir. of Ops. On the way I encountered so much smoke from the Pinal Mountain fire that visibility was almost down to IMC. The turbulence at 10,500 made for a rough ride all the way. The wind was blowing at Show Low something fierce. KSOW 262335Z AUTO 21025G33KT 10SM 22/M13 A3005. The winds have been so unrelenting these last two months I almost take it in stride now. I'd probably fly even if the winds were 40 knots at this point.
WX Summary: Strong winds all week. The thunderstorms started showing up this week in New Mexico. Arizona still remains relatively clear. Monsoon season officially begins June 15 and runs through September 30.
[May 10, 2017]
Deferred Maintenance
______________________________________________________________________________________________________
Finally around to taking care of some deferred maintenance items on 31J before the list got too long. In the last week or so I've had the landing light replaced, the fuel sump on the right tank replaced, the motor mounts replaced, and a new air filter box installed. The landing light fell under owner maintenance so I was able to do the work. I really wanted to replaced the halogen bulb with an LED unit but in the end I just could not bring myself to pay $250 for a light when the the original replacement cost me $16. By my calculations I would have to replace the landing light 15 times before I spent the equivalent amount. The current light lasted me two years, the replacement procedure was simple and took less than 10 minutes. In the end LED just did not make economic sense for me.
The motor mounts have been sagging for some time. Like everything else rubber on the plane the 10 years of sitting idle in dry Arizona took its toll. Unfortunately a byproduct of this sagging was the air filter box making contact with the bottom of the cowl causing enough rubbing to damage the filter box and the cowl. Fortunately the filter box cost was a bargain compared to an LED landing light. Oh I almost forgot I also replaced a fuel cap last month relearning a valuable lesson about pre-flighting an airplane that ended up costing me $80. I always teach students that after completing your preflight step back from the airplane and take a look at the whole aircraft, does it sit straight and level? Are the chocks and tie down chains removed? Are the fuel caps on and locked correctly in position? I failed to do this and had left a cap laying on the wing. Additionally the chain that holds that cap on was also broken so at some point, probably the run up, the cap departed the airplane, and actually that was probably a good thing because if it was chained it probably would have torn up most of the paint on the top of the wing during flight. So valuable lesson relearned in this incident, practice what you preach!
One of the bigger upgrades on 31J I have been contemplating has been a digital replacement of the AI. Originally I was looking at the EAA STC for the Dynon 10, but after catching a glimpse of a real Garmin G5 I'm now starting to lean in that direction. These units are essentially miniature glass panel displays that replaced the vacuum attitude indicator. They provide attitude, airspeed, altitude, heading, and vertical speed, though legally they only replace the AI. The Dynon display was originally designed for the experimental market and now with the help of EAA has been approved for certified aircraft. The frustrating part is cost, surprise? The experimental version of these units cost $1100, the exact same unit for the certified airplane is $2500! Ugh, can't wait to get that RV-8 built! What I don't like about the Dynon is its dated looking display, it looks like a first generation AHRS from the 1980s. I have been talking with my local avionics shop about the upgrade and they made an additional suggestion of looking at the Aspen unit which I am researching now.
[May 9-15, 2017]
Turbo Commander Flight Week Wrap Up - Night Shift
______________________________________________________________________________________________________
More great weather this week, except for the high winds associated with spring in the southwest. This was the busiest flying week I have had since joining the company in December. I flew at least one flight every day and two or three on some days. Thursday night was an all nighter with three flights, two into Phoenix. I logged some 11+ hours of turbine time in just one week. I had a Vietnam vet as a passenger one night, he told me he had survived two Huey helicopter crashes, I assured him we would not crash and ended up making my best landing ever in the Commander, one of those landing where you are not even sure you ever touched down because the transfer is so smooth. I always find interesting airplanes on the ramps at the airports we visit, this week I saw a De havilland DHC-4 Caribou at Falcon Field. This plane is massive and dwarfed the Turbo Commander parked next to it. It looked like you could have stowed the Turbo Commander inside the hold of this massive beast. Interestingly enough the line guy told me it was a privately owned plane. Who flies around in a Caribou?!? The vert stab and rudder on this plane are enormous, if they are not hydraulically boosted that pilot must have some massive calf muscles. On a visit to Tucson in the middle of the night we parked the plane and headed to the FBO. On the way we passed two guys and a girl in civilian cloths walking out to the ramp. They loaded up in a flat military grey painted DH Twin Otter (God I love that plane!). I asked the line man about that suspicious group. "Oh they go down and fly along the border with Mexico each night." Hmmm, wonder what that's all about. Interesting stuff going on at Arizona airports in the middle of the night, interesting stuff. The lowlight of the week was getting hit by a jackass with a green laser while coming back in to Safford around midnight. I saw a brilliant flash off the left wing out of my peripheral vision, turned to look and see if my wing was still attached, and got hit square in the face by a second laser shot. Guess this guy did not appreciate us waking him up at night. I had a good idea of where the laser had come from but wanted to pinpoint it if I could to let the police know where this yahoo was located. I asked the crew if they had a few minutes and then turned a 180 to fly back over the general location of where I had seen the laser flash. Unfortunately I could not get the person to bite. As I flew turns around the point over the town I secretly wished I was flying a C-130 Spooky Gunship with a minigun and howitzer sticking out of the fuselage. I would have lit that guy up like the 4th of July. When we got back to base I reported the incident to the company and sent in an FAA laser report.
[May 7, 2017]
Exploring New Options For Carson
______________________________________________________________________________________________________
Carson's 16th birthday is drawing ever nearer. The plan for many years has been for him to get his glider pilot certificate on his birthday and then solo our plane. We are now four months from that day and progress at the glider club has been agonizingly slow and disjointed, not conducive in my opinion to accomplishing the ultimate objective in an efficient manner. He has gained about seven hours of glider experience and completed his solo in the two or so years we have been members so in that respect it has served its purpose but it is now time to buckle down and as Larry the Cable Guy says "git-R-done!" This weekend we hit the road to explore other options. The first was another glider club north of Tucson. I was told the club was better organized, had lots of aircraft and instructors and used aero tow instead of winch. Saturday afternoon I tried calling the number of the POC I was given but got no answer and no reply to my voicemail. I took a gamble and drove the two hours to the field on an overcast and cool Sunday morning with Carson. The only activity on the field was a high performance glider at the end of the runway with three or four people standing around. We went to the main club building that had an observation deck built on to it and sat for an hour and half watching the same glider get towed aloft and return back after its release almost immediately. No more people arrived at the field and no one came to the club building to talk to us. The description of the club was not jiving with what I was experiencing. My gut was telling me this club was not going to fit the bill for what we needed. It was time to just bite the bullet, open up the wallet and go commercial. We headed back to Phoenix and over to Estrella Sailport. By now the winds had picked up, most of the day wasted and I just wanted to give Carson some type of reward for being dragged all over Southern Arizona. I had done some brief training with Estrella last year in an aborted attempt at completing my commercial glider certificate, I knew they had a good operation but were on the expensive side. We arrived at Estrella in a stiff spring wind but were still able to be accommodated and rather quickly. Carson got to go up in a Grob 103 for 30 minutes on his second aero tow experience (the first was with me a Pleasant Valley). He enjoyed the flight and while he was soaring I was coming to the realization that Estrella was the right course of action for getting Carson's training done on time regardless of cost.
[May 4-5, 2017]
Back to my Roots
______________________________________________________________________________________________________
Had a fantastic dinner and after party at the Screamin Banshee and Saint Elmo's in Bisbee with all my former coworkers and a few former students from the college. My daughter Madi also flew down with me to see old friends. I like to give each of my former CFI students a handmade airplane training aid when they pass their checkride. I have to admit I got a little behind at the end of my time at Cochise College and owed quite a few planes to new instructors. I always make good on my word and the massive amount of time it took to hand craft each plane was a labor of love. I got them done, they loved them and we had an awesome reunion! I'm excited about how much potential each of their aviation future's hold. It is a great time to be young and in aviation. I'm honored to have played a little part in helping them achieve their dreams.
[April 26, 2017]
RV-8, Are We Really Gonna Do This?
______________________________________________________________________________________________________
So as many of you know building a plane has been on my bucket list (posted on this web site) for a very long time. The longer I fly the more the closet builder/engineer wants to come out of me. I love creating things and tinkering with mechanical things. My work shop in my garage has built up considerably now that I am growing roots in my forever home and not moving every three years with the Army. My love of building and tinkering is only diabolically opposed by my very bad habit of procrastination, if I can j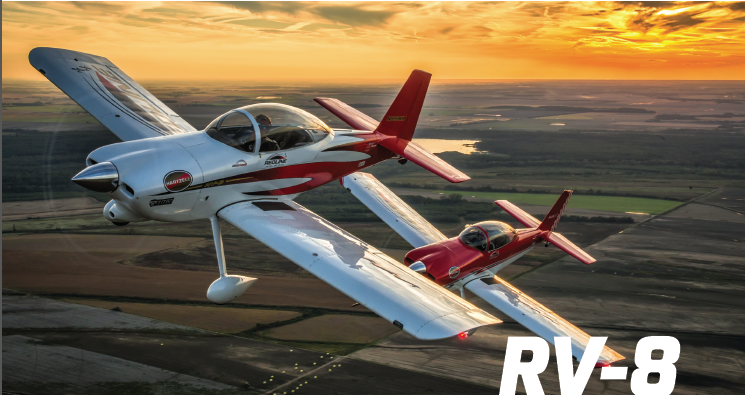 ust get moving on the project I am fine, but the getting started can always be challenging. So if you have followed the blog over the last few years you know there have been fits and starts when it comes to building an airplane. The first was a Legal Eagle scratch build that went no further than ordering the plans which were just awful. Look like a five year old drew them. The next attempt was last year with the ordering of the rudder kit from Aerodrome Airplanes for a Fokker D-VIII. The plans were only slightly better, the materials that came with the kit slightly less so. Do I really want to trust my life to this thin aluminum tube and dowel rod connected by wood screws? I had hoped the A&P mechanics at the college where I worked would be helpful with technical support on the build but after three months we had completed only bending the tube for the trailing edge of the rudder. So the Fokker D-VIII got shelved and the dream of building moved back into the shadows. Now these two builds were never the end objective. They were just vehicles in which I would acquire the requisite skills needed to build something much more substantial. My true love from whenever I conceived of building my own airplane has always been the Vans RV-8. So the Almighty has seen my plight with two aborted attempts at building a plane that really went nowhere and he went to work to make all the planets align for me and this here are the conditions he set: I got a flying job that took me to Safford, he gave me a job where I am sequestered for a week at a time on call 12 hours a day but free to do what I want until a call comes in, and finally he placed Mr Wade at Safford airport. Mr Wade has been assisting people with building RVs for 30 years, he has a complete workshop, has the skills, and is willing to teach others. So after meeting Wade and talking with him for hours I can't believe the opportunity that has been placed in front of me. I would be absolutely foolish to allow such an opportunity to pass me by! I can't go to my grave with the regret of never taking advantage of this opportunity or at least TRYING.
So here we go! Wade tells me based on my schedule it will take about a year and half to build the RV-8. I think I can stick with my current job for a year a half while I build this plane. Thinking into the not too distant future I want to go into business with my own boutique flight school teaching tail wheel and some other niche things but I can push that down the road a little further if it means my dream of building an RV-8 will be realized, and truthfully I am devoid of a challenge or project in my life so I need this for my own well being. The army career has been completed, the masters degree is done, the ATP is earned and the recent Flight Instructor of the Year award for Arizona has put me at the top of the mountain as far as CFIs go. I need something new to keep pushing me forward. So we ordered the tail feathers for the RV-8 a few weeks ago and they came in last week. I am back on day shift in Safford this week and went to see Wade today to get started on MY plane. This is not going to be cheap, but relatively speaking its a bargain to have a brand new high performance sport plane for no where near what you would pay for a new certified plane or even a sport plane for that matter. There are other benefits to going this route as well. I can build the experience and hours I need to become an A&P which require 2000 hours of on the job experience. I will be able to do my own annuals on the plane which will literally pay for itself over 20 years. I will learn a plethora of skills that can be used in maintaining my own airplanes as well as other areas and projects. This is going to be an education experience so I equate the money I am going to spend as tuition for any higher education degree, but unlike that degree I will have an actual airplane to show for the money spent and not just a piece of paper! Wade gave me an orientation of the shop, showed me my parts and sat me down with my preview plans book which I spent a good three hours reading just the first few sections on building overview subjects. Later in the day I actually began the build of the vertical stabilizer. So much to learn, so far to go, I'm glad I have Wade as my guide and mentor. It is going to be a fantastic journey and I hope to capture much of it in this blog.
[April 20, 2017]
Excuse to Fly #36: Your Dog Needs a Discovery Flight
______________________________________________________________________________________________________
Always wanted to take our pug Lenny for a flight. At 13 years old it was now or never. Madison and I loaded Lenny into our Cessna 150 and give him a wonderful flight around the pattern at Deer Valley. He sat in Madison's lap and was as calm as could be during the entire adventure. Probably why he is the best dog I have ever owned.
ED NOTE: A little over a year after this flight Lenny passed away on May 15, 2018. It was a very sad day for all of us as Lenny was an amazing friend and comrade in this journey through life. I know you are on the wings of angels now my best friend and I look forward to the day when we will be reunited.
[April 11-17, 2017]
Turbo Commander Flight Week Wrap Up - Night Shift
______________________________________________________________________________________________________
Working nights this week flying the Rockwell Turbo Commander. We have been blessed with some really nice weather. A full moon and stars in the sky reduces the stress level tremendously in this line of work. Even the typical spring high winds have abated this week. I take the time to appreciate this fact and enjoy the 30 minutes hops back and forth to Tucson even when the call comes at 2AM in the morning. The plane is performing well and with 60 hours now logged in the plane I am feeling more and more comfortable flying it. The typical mission takes about 4 hours from start to finish. When a call is received from the comm center I head out to the airport to prep the plane. The full preflight is completed at the start of the night shift so this is already done when a call comes in. It now takes about 8 minutes to get to the airport from the crew house, the old crew house further from the airport took 15 minutes. I have about 40 minutes to pull the plane out of the hangar, put on my uniform, and complete my preflight planning. Preflight planning includes a risk assessment worksheet, filing my IFR flight plan, flight plan briefing (via Foreflight), and complete a weight and balance (done using software on my IPAD). About 50 minutes after the first call the ambulance arrives with the patient and the med crew. In five minutes we are loaded and the door is closed. I call the comm center and file a company flight plan and then light the two Garrett TPE 331-5s. It does not take long for the engines to warm up and we can be in the air within five minutes. The typical flight is short, only 30 minutes, at altitudes of 13,000-14,000 ft. We average about 225 knots over the ground. Slowing the airplane below 200 knots after the descent has started is often difficult even with the engines at idle. Usually I have to level off briefly to slow to Vle, drop the gear than half the flaps before commencing the descent again. Once dirty the plane will slow to about 120 with 150HP set on each engine during the final approach. I'll start to dial in trim to set the landing attitude where the plane settles to its landing speed of 100 knots. My flare is just enough to arrest the descent and keep the nose about a foot of the ground. On roll out the power levers come back to the stops, and then are slowly moved past the detent into beta and reverse. Below 50 knots I start to bring the brakes in which are touchy and jerky. As the brakes take over I retire the reverse thrust and put the condition levers into low RPM. The plane becomes much more manageable on the ground at this point assuming you're comfortable with the unique Rockwell nose steering system.
[April 7-10, 2017]
X-Country to Southern Utah
______________________________________________________________________________________________________
Carson and I just completed our first cross country excursion of 2017. We headed off to Cedar City, Utah for a four day camping trip that included Zion National Park, Bryce Canyon National Park, Kolob Canyon, and Cedar Breaks National Monument. The idea for this trip came about last year during our journey north to Yellowstone as part of GAXC III. Our route had taken us to St George, Utah where we refueled and headed north. On the way to Cedar City we caught a glimpse of Kolob Canyon off the right wing and decided that was worth a trip sometime in the future to further explore. Utah truly has some spectacular scenery. Even with the Grand Canyon I think overall it has Arizona beat.
With good tailwinds we were able to fly non-stop from KDVT in Phoenix to Cedar City in about two hours and forty five minutes. Carson did all the flying. The forecast called for high winds in Cedar City (30+ knots) by noon so I wanted to get in as early as possible. With the loss of an hour due to the time change crossing the state border we descended to the airport at around 9:45 local. The winds were already building at 20 knots gusting to 26 knots. Fortunately they were right down the runway and we hovered down to a midfield landing so that we could quickly clear for a waiting Cherokee.
Cedar City has public tie downs, with tie down ropes hanging on the fence, but I would recommend bringing your own which is what we did. Fees are $10 a night, first night is free. Self serve fuel is available nearby and Budget/Avis rental cars are available at the pax terminal which is only a half mile down the road. We got upgraded to a pickup truck which we ended up calling the "terd" because it gave us less space and horrible gas mileage.
That was all the flying that would occur over the next three days as a cold front was bringing overcast skies, rain, winds, and snow until Monday. We drove out to Zion where we had campsite reservations and spent the rest of the day exploring the park as far north as the Temple of Sinawava and Riverside Walk. On Saturday morning we finished our exploration of Zion. The park can easily be seen in one day unless you want to hike the many trails or climb to Angel's Landing. In that case you would want two full days. From Zion we headed east on the Mount Carmel Highway which was a very scenic ride taking us through tunnels carved into the mountains and a drastic scenery change on the east side of the park.
It felt like forever to get to Bryce Canyon driving the winding roads through the Utah countryside. We made it to Bryce just after one in the afternoon. Camp sites in the park are first come, first serve so I did not expect to find availability but in fact we did in North Campground. After setting up camp we headed for the furthest point south, Rainbow Point, 15 miles from the entrance and worked our way back north. As we drove the elevation got higher, we started to see patches of snow along the road, which grew in size until the ground around the road was completely covered in snow. By the time we got to Rainbow Point, elevation 9115ft, snow flurries were falling. This is April in Utah. Expecting to see the hundreds of Hoodoo formations as depicted in all the pictures of the park I was a little disappointed. As we traveled north each scenic overlook we stopped at failed to deliver the "wow factor" I had anticipated. After about seven overlooks we headed into town to get firewood and stop by Bryce Canyon Airport to conduct a little recon. We planned a sightseeing round robin flight for Monday and KBCE was on our hit list. It was going to be challenging considering the airport elevation is 7,589ft MSL. Not much was happening at the airport probably because the winds were hollowing. The guy at the terminal asked if we wanted a scenic flight, "no thanks, we have our own airplane" I said. KBCE is best known for its barn hangar which has the words "BRYCE CANYON AIRPORT" in big yellow letters on its south facing roof. After eating a campfire dinner the sun was getting low in the western sky. We headed back to the overlooks, this time Sunrise Point which sits in the Bryce Amphitheater. Now the true beauty and aw inspiring vistas were unleashed amplified by the setting sun. Bryce Canyon went from zero to hero on my national park list. There were hoodoos as far as the eye could see and the place just screamed adventure! We headed down Queens Garden Trail to be one with the scenery and made it back to the rim just before dark. That night was very cold and I had a fitful night sleeping hoping with each awaking that it would be dawn. The next morning ice pellets littered the ground, I was thankful we were only camping in Bryce one night.
Sunday brought more exploration of Bryce with a hike down the Navajo Loop Trail and Wall Street. The forecast had not materialized and it was bright and sunny. By noon we were on the road again heading to Cedar Breaks National Monument. Once again the snow appeared along the roadside and quickly grew to a few feet along the road. We entered the park from the east entrance but when we went to turn south at a T in the road we were met with four feet of snow blocking the road. So much for Cedar Breaks, we went north at the T and discovered the ski resort of Brain Head and were blown away at just how many slopes the area had. People were skiing all over the place, some slopes looked like they went right across the road. Once again here it was April and people were skiing! This was a great discovery as Carson enjoyed learning to ski this winter and we were on the lookout for new and interesting places to ski as Arizona's selection is quite limited. I made a mental note to return to Brian Head next winter.
Our final day Monday dawned bright and clear with clam winds. We were back in Bryce at the worst excuse for a campground, the Cedar City KOA. Essentially a parking lot in the middle of town with a few trees and lots of RVs. After the camping we had done this was more like camping in your back yard. We headed to the airport early for our round robin flight of the parks. Frost coated the wings of 31J so we positioned her so here wings faced east into the sun. With the frost melted we tried to start the engine, it caught, ran, and then died. We tried three times, with the same result. I was starting to have flashbacks, not again! I stepped out and saw a fluid pooled near the nose wheel. At first I thought it was melting frost but on closer examination I realized it was avgas. Where we leaking fuel? I came to the realization that the three primes may have been a little too much. I hoped that there was an easy solution to this problem. I got back in the plane, pulled the mixture to fuel shut off, pushed the throttle wide open and cranked the engine for three to four rotations. I then reset the controls for a normal start, said a brief prayer and hit the starter, the engine roared to life. Yes! I had over primed and flooded the engine, everything was okay!
We launched off of RW 20 and headed south along the highway before overflying Kolob Canyon. The morning sun was not right for Kolob but I still found it very majestic from the air. From there we overflew Zion respecting the minimum altitudes of 2000ft AGL. I was glad to have explored on the ground before the over flight because I could easily recognize all the locations we had visited. From Zion we headed to the southern edge of Bryce Canyon and flew along its east boundary. Here the sun was perfect and the cliffs stood out with flare from the surrounding countryside. Now the moment of truth was approaching, a landing at Bryce Canyon Airport. We had prepared the little Cessna 150 as best we could, no extra baggage weight and fuel tanks that were only half full. We would need every ounce of performance available. My highest elevation airport landing to this point had been 7143ft and that was in a 160HP Tri-Pacer, this would be different. We tuned in the weather and realized the wind would be of no help to us. It was a direct crosswind growing in intensity with every passing minute. We decided on runway 21 and to just do a touch and go. Even with 7400 ft of runway I did not want to take any chances. I touched down in a heavy side slip on the first 500 ft of runway and Carson quickly retracted the flaps for me as I added power. The C150G has the worst flap design with a toggle switch for flap extension and retraction. You must hold the toggle switch up the entire time the flaps are retracting. At 30 degrees this can take what feels like an eternity on a touch and go. Three thousand feet later we were just flying out of ground effect! I wondered what the distance would have been from a full stop takeoff. I flew at the maximum end of the performance envelope of the little plane demanding everything it had to claw our way to altitude. The iconic KBCE barn passed by the right window and with that the end of the runway, we inched skyward at 50-100ft a minute. We gently turned back to the west and climbed slowly ever higher. We had done it! A short time later we landed back at KCDC, and headed back out on the ground to see Kolob Canyon and grab some lunch before starting the trip back to Phoenix.
The return flight was not as kind to us with upper air winds and Carson had to continually coax the heavy airplane to hold its altitude which had to be as high as 10,500 to cross the VFR corridor across the Grand Canyon. Interesting side note, about 25 miles south of Cedar City I spotted an old air mail concrete navigation arrow on the ground pointing north, this is one of many nav arrows we have come across in the southwest. We landed in Cottonwood to refuel on cheap gas before heading back into the Valley of the Sun. The trip was a great success. Even with Carson growing and getting heavier we are still able to pack the 150 with camping gear, albeit much more weight efficient gear, and fill the fuel tanks for three hours of non-stop flying. Three hours in an airplane, even a 150, gets you a long way and makes the world that much smaller. Had we driven to Cedar City it would have been seven plus hour drive. After some four trips into Utah the state continues to amaze me and I am sure it will be a choice destination for future flying adventures.
[March 11, 2017]
The Accident Trap, And How I Almost Fell In
______________________________________________________________________________________________________
With 31J finally out of maintenance I am excited to start flying her again. It's been almost two and a half months since she was grounded. The culprit of the tail noise was loose bolts in the forward connecting points of the horizontal stabilizer. The bolts and nuts were replaced and torque to specifications, we should be good for another 50 years of flying. Our first trip would be northeast to Show Low, AZ. A familiar destination from past Flights for Life blood deliveries and the home base of my air ambulance employer. But we were not going there for either of those reasons, we wanted to go skiing at Sunrise Ski Resort and flying there would make the trip a one day excursion instead of two if we had driven. It was an uneventful flight up to Show Low and we had a great time skiing in some really beautiful weather with temps pushing 70 degrees. It was the takeoff to come home that almost ended in disaster and struck home how easy it is to fall into an accident trap.
It was almost 4PM when we returned to the airport for the return flight. We had already topped off the tanks that morning, gas was cheap here and I wanted as much of it as I could carry. Show Low is a high altitude airport, sitting at 6,415 ft MSL but this has never really been a problem as we usually used the primary runway which is 7200ft long. I went through an abbreviated preflight and Carson started the plane up. About that time one of our company planes was entering the pattern for the airport. I said hello to the pilot on the radio, just enough distraction for me to forget to listen to the AWOS as I told Carson to taxi out to RW 24 (the long runway). I made a call that we were leaving the ramp for RW24. The UNICOM operator came back and advised me the runway was NOTAM'd closed for the next hour for maintenance. I was embarrassed that I had not known that had I listened to the AWOS (which the announcement of the closure had been amended to) or checked the NOTAMs. Since the air ambulance had just landed on the shorter RW 21 I assumed that was our best option. I did not look at the runway length or determine the density altitude or even check the winds! Heck we were under gross, we were fine. We were rushing to get home and an accident chain was building. In fact there was a tailwind and shorter runway actually had an upslope. More links in the chain. One thing I did right is back taxi to the edge of the runway before takeoff, but the takeoff was a normal takeoff, no flaps and no static run-up. The aircraft accelerated slowly, very slowly. One thousand feet went by and we still had not achieved 60 knots, another 1000 feet went by and the plane was yet to accelerate to rotation speed. The half-way point flashed by us and we started to rotate slowly. The end of the runway was quickly approaching but I was so focused on making the plane fly that the abort I should have made never entered my mind. The plane struggled into ground effect climbed slowly and crossed the threshold at 75 ft. I scanned the gauges looking for the problem, but there was no mechanical problem, all gauges read normal, all controls were properly positioned. Pilot error in decision making had created this problem. I later went back and ran all the numbers based on the information I had and could not make the takeoff run distance replicate what happened to us. Subsequent test flights showed the aircraft takeoff was normal and close to book specs back in Phoenix, it was not the airplane.
I concluded that I had fallen into an accident trap. Much of which was created by my own omissions and my haste but substantially helped along by some incredible wild cards such as the brief runway closure NOTAM, the embarrassing radio notification, and the landing company aircraft. Without those the accident chain could not have been built and helped me along I making a poor decision. In this case I should have and could have slowed things down and taken a closer look, but I think of other situations at busy airports where time is not always a luxury and I understand now how accidents can and will happen when all the variables align, fortunately the probability of such is extremely low and will hopefully remain that way.
[February 14, 2017]
First Night Shift on my Own
_________________________________________________________________________________
First time working the night shift and it was intense. I got a call at 9PM so I did not have to wait long. I was flying the plane I trained in but it has been a month and a half since I last flew it and each of our aircraft our a little different so there is a spin up process that occurs whenever I jump in to a new plane. Buttons in different locations, different autopilots, different radios. On top of this I last flew the AC90 over eight days ago. This is something new to me, I am used to flying every day and flying the same planes. There is definitely a period of time where you are getting reacquainted with the plane. Nothing like going out in zero illumination to a small airport in the mountains VFR while you are trying to get back in the saddle. I got over to the pick-up airport 25 miles away easy enough but I slammed that plane on the runway like I was landing on an aircraft carrier, sorry crew! On the way to Tucson I could not get my autopilot to engage until I finally realized the yoke disconnect switch had been activated. By the time we got to our destination and it was time to return to base I was feeling more comfortable, but the flight was a real wake up call. I noticed the same spin up last time I came off a seven day break but the night flight really amplified it. I was really thankful I did not have to fly in instrument conditions. Flying often and flying standardized equipment is a good thing, but in my case I am going to have to find other solutions to this challenge.
[February 1, 2017]
Pivot Point
______________________________________________________________________________________________________
So it has been some time since my last blog entry and quite a lot has happened so I need to bring everyone up to speed which is going to take quite a few backdated entries but in the interim I will give you the summary.
In November a good friend of mine was working for an air ambulance outfit not too far north of Cochise College where I was teaching. He had been trying to convince the company to hire me but they had held firm on the requirement 100 hours of turbine time experience. My friend had helped get me an interview with the charter company in Phoenix in the hopes that I could build my turbine time there and then transfer to the air ambulance company. That plan was moving at glacier speed but moving, I had interviewed in May, started ground school in August, and finally completed my PT 135 checkride at the beginning of November. I was flying a Cessna 207 on the weekends and was probably not going to see a PT-6 equipped Caravan for many more months, let alone start building the needed 100 hours of turbine time.
So here we were in November and now the air ambulance company was in dire need of pilots, and my friend was also leaving the company, not because he did not enjoy working for them, but because he had received a better offer that he just could not refuse. He once again recommended me to the company and I followed up with my resume. I also went up to the company base and spent a few of my day's off flying along on a few of the missions with my friend in the Turbo Commander. I believe the resume and the willingness to visit and spend time at the base convinced the DO and the Chief Pilot that I might be worth taking a chance on despite having no turbine time and little 135 experience. They offered me the job at the end of November and I was able to negotiate a start date that allowed me to finish up the semester at the college. The timing could not have been more perfect for me.
I wrapped up my almost three year stint with Cochise College on Thursday, December 15. It was bitter sweet cleaning out my office and saying good bye to colleagues and students. Cochise had given me my first real break into the industry. They had also taken a chance on me, but I think it paid big dividends for them in the end. I had logged some 1000+ hours flight instructing bringing my total flight time to 2,300 hours and who knows how many thousands of additional hours ground and sim instructing. I had taught every student type they had, from private to CFI. But it was clear to me that it was time to move on, the tremendous amount of learning and growing that had occurred through the first two years had markedly flattened during the last year. I was also growing tired of sitting in the right seat watching other people fly while my own skills atrophied. I had a tremendous amount of experience with my own GA flying, but next to none with commercial flying. I needed to get out and experience the industry if I was ever going to remain relevant as an educator.
After a short weekend I was reporting to the offices of my new company the following Monday for indoc training. It was a small class, only two of us and the instructor. We spent the rest of December training and working around the holidays before moving on to line training. I will definitely amplify this particular experience in more detailed blog posts because all of this occurred during some of the worst winter weather I have ever experienced in Arizona.
Fast forward to February, now I am stationed at my base working seven days on and seven days off. When I am on duty I am on call. Until a call comes in I can do anything I want as long as I am within 15 minutes of the airport. This has left me with so much free time compared to my previous job that there will no longer be any excuse for letting this blog site get moldy. With that said I do want to move the blog in a different direction. I would like to move away from the mundane posts about what I did that day (unless of course it was something really exciting!) which is more of a journal approach, and focus more on specific topics that interest me in aviation, creating articles if you will, maybe even multiple part articles that develop and become refined as the days go by. Of course there will be plenty on my new aircraft, the Turbo Commander, an awesome airplane. I have already begun to expand my You Tube offerings with the new airplane and new job. With the extra time available I hope to improve the production value of those videos as well.
So this is a pivot point in my life to say the least. I've moved on in to more exciting flying, more advanced flying, and more difficult flying. And with the pivot the web site will pivot as well and begin to move in a new direction. Exciting times, I hope you will stick around to enjoy it with me.
[January 24, 2017]
Tail Noise in 31J
______________________________________________________________________________________________________
More down time for 31J, ugh! A few weeks ago I was doing my routine run-up prior to takeoff and noticed a sound similar to the seat belt beating on the fuselage but further back in the tail area. I idled the plane, the sound went away, I added power and the sound came back. I told ground I needed to go back to the ramp, I figured something was hanging out of one of the door or a gas cap was hanging off by the chain.

When I shut down and did my inspection I found nothing out of the ordinary. I ran the plane up in the ramp area and the sound came back. I took the a/c back to the hangar and then started pushing and prodding on the tail surfaces. That is when I discovered an oil canning sound when I would put pressure on the h-stab. This did not seem normal so I immediately went looking for another Cessna 150 to check. I found two others and they made a little noise but not like my plane.

My mechanic has the tail all opened up and there is nothing really glaring that he has found with the mark-1 eyeball, but we have not really x-rayed the plane either. I posted pictures and a video on the Cessna 150 Club forum and got some pretty good leads on what might be causing the noise from loose bolts to the center line of rivets on the horizontal stabilizer. Aircraft make/model clubs are a valuable resource of information and I wish I had joined my club earlier. It looks like the tail is going to come off at this point so the plane will be down for a while it appears. But probably better to get it fixed than to have the tail depart in flight :(
[January 23, 2017]
Flying the Line
_________________________________________________________________________________
Was not up for more than an hour this morning when I got a call for a mission to Tucson. Weather was pretty nice with only a small cloud layer at 10,000 ft which we were able to get over the top at 13,000ft. The descent in Tucson was entertaining. The controller was getting frustrated with some other pilots practicing instrument approaches and she was ensuring they knew she was frustrated. I kept my mouth shut and just did what she told me to do as I get vectored for the visual to 11L. We got in and got out at around 12 noon with no problems. I flew home VFR on was on the barber poles for the descent. Later that day another pilot told me a Beech 300 crashed at Tucson during takeoff. The plane burst into flames killing both occupants. We had left just 40 minutes prior to the accident, yikes.
[January 21, 2017]
FAA Flight Instructor of the Year - Arizona
______________________________________________________________________________________________________
On Saturday evening I had just landed back at my base after a mission when I got a call from the FAASTteam lead at the local FSDO. She asked if I was going to attend the GA Awards Banquet that evening. I explained to her that I was working and would not be able to make it. "Well that's too bad, but I have good news, let me be the first to inform you that you have been selected as the flight instructor of the year for the state of Arizona." she said. That was a nice little surprise. I was no longer a full time instructor but heck what a way to go out, on top!
So a little background on the General Aviation Awards Program that I lifted directly from their site: The General Aviation Awards Program is a cooperative effort between more than a dozen sponsoring organizations from the aviation industry and the Federal Aviation Administration (FAA). For nearly 50 years, the Program has recognized aviation professionals in the fields of flight instruction, aviation maintenance, avionics, and flight safety for their important contributions to the general aviation community. These awards highlight the important leadership roles these individuals play in promoting aviation safety, education, and professionalism. Award categories are: Certificated Flight Instructor of the Year, Aviation Technician of the Year,FAA Safety Team Representative of the Year
Winners are recognized locally, regionally and nationally. National winners are recognized during AirVenture in Oshkosh, WI each July. There, they also receive gifts provided by sponsors and contributors.
Local winners are chosen by FSDO. For Arizona we have only one FSDO and that is located in Scottsdale. Arizona falls within FAA region Western Pacific region which includes California and Nevada.
I became interested in applying for this award a few years ago and looked at the application procedure which was an involved process to say the least, so I put it on the shelf. After going through my original Master CFI application in 2015 I realized the GA award process was very similar in many ways. This year I had to renew my Master CFI designation I thought the time was right to subsequently submit my GA Award packet which ended up being some 70 pages of documentation. The GA Awards committee wants to know what you have done for aviation during the last 5 years, which for me has been a very active time.
When I got back to Phoenix the following week I went down to the FSDO to pick up my award. Quite an impressive award.
[January 6, 2017]
Can the Weather Get Any Worse?
______________________________________________________________________________________________________
Today started with a broke airplane which did not come up until 6PM. The DO informed me I was now working a 24 shift. This means your duty clock does not start until a mission comes in. The weather was deteriorating rapidly so I knew for sure I was going to get a mission on this night. I went to bed early with my cell phone by my side, the wind was blowing so hard outside you could hear the house creaking from the strain. Line training involves flying with another pilot in the right seat who's only job is to make sure you don't do anything stupid and share their wisdom on how to fly the plane which usually runs contrary to the indoctrination training received. Tonight the second pilot was mandatory because the autopilot was broken and on the MEL. So my first real mission flight would be in terrible weather with no autopilot and a whacked out vertical speed indicator, wonderful. As anticipated my cell phone rang at exactly midnight a mission had come in to transport to KIWA in Phoenix. I checked the weather, IWA looked great, SOW, not so much. Low cloud deck, rain, and winds out of the north at 25knots gusting to 30knots. Time to make the donuts! I was dressed and to the airport in 20 minutes. I double checked the cockpit panels making sure the mechanics had not pulled all the critical circuit breakers and flipped all the switches into the wrong positions which they usually do when they perform maintenance. For the most part everything was in order. Preflight paperwork includes a risk assessment, weight and balance calculations, and inspection of maintenance paperwork there were no open squawks that had not been at least deferred. I pulled the plane out on to the ramp after the rain abated with the tug. It was not until 1AM that the ambulance with the medics finally showed up. After loading and firing the two Garrett 331s turboprops up we got on our way. With a wet runway the engine igniters go to OVERRIDE mode which keeps them on to prevent a flameout on takeoff. After takeoff I was immediately in the goo picking up rime ice, all ice protection came on. Igniters remain on in case the inlet heaters knock a big chunk of ice into the engine. This could certainly cause a flameout. On the way up to 14,000 ft the plane got bounced around so hard I could barely make out the attitude indicator. Hang on boys, it's going to be a wild ride! Hand flying the plane was taking all my concentration so I had the co-pilot work the com/nav radios and GPS. Once on top of the clouds the ride smoothed out but it was absolute darkness, I just remained on the gauges, hit the wing boots and watched chunks of rime ice shed into the slipstream.
On the way home we hit the same weather but now worse. The ceilings had dropped and rain was starting to turn into snow. The wind was blowing at 25knots, 60 degrees off runway heading. I broke out a mile from the runway maintaining centerline with a crab so pronounced that I thought I would never be able to hold centerline once I transitioned to a sideslip. I dipped my right wing and put my left foot to the firewall wishing I had moved my seat a little further up. The big rudder on the Turbo Commander responded and I held the plane on the centerline, touching down with the rain/snow blowing literally sideways, unbelievable. By the time I got the plane back to the hangar it was caked in ice. That was an intense experience yet I don't recall being nervous, just focused. The aviation learning curve which had plateau after about two years of teaching now suddenly had a new trajectory. You never stop learning in this business.
[January 4, 2017]
Start of IOE (Initial Operating Experience)
______________________________________________________________________________________________________
Today is my first day of line training in Show Low. We were at the hangar at 0600 this morning to fly our Turbo Commander down to Scottsdale to drop it off for maintenance and pick up our other aircraft coming out of maintenance. As we descended out of 12,000 feet into the Phoenix metro area I noticed that the left engine HP indication would not go below 200 with the power level in flight idle. This was odd and pointed it out to the Chief Pilot who was flying with me in the right seat. On the final approach into Scottsdale I still could not get anything less than 200HP on the left engine. Normally we fly short final at about 150HP and fly the plane onto the runway. Now I had an asymmetrical thrust problem as I brought the right power lever back. The extra 50HP was also causing me to fly faster than the 100 knot over the fence speed. I checked the asymmetry with rudder but we floated a little further than usual. We brought up the new squawk to the maintenance manager and he mentioned having heard of this happening with the fuel controllers on the Garret engines before. In the case he was aware of the engine would not go below 400HP which would make a landing impossible, the pilots only option was to shut down and secure the engine at altitude and then return to the airport for a single engine landing. We conducted two test flights of the aircraft we were picking up before finally deciding with the DOM that the plane was okay to accept and return to service. On the final departure from Scottsdale the Chief showed me a short field takeoff and it was a rocket ship ride with a rotation at 95 and a pitch up of 20 degrees. The Turbo Commander is quite awesome. I flew all four flight today's logging about 2.5 hours of turbine time and really started to feel comfortable with the plane.
[January 3, 2017]
Turbo Commander 135 Checkride
______________________________________________________________________________________________________
I started the day this morning practicing emergency maneuvers with my instructor. We practiced engine fire on the ground, engine failure on takeoff, engine failure after takeoff, single engine approaches and primary hydraulic failure, no flap landings. I felt really comfortable flying the Turbo Commander today and was surprised what a non-event an engine failure is in this aircraft. The plane has so much power that it can easily hold altitude and climb on a single engine. Once secured and trimmed it is as easy to fly as when it has two props turning.
Around 1PM I and the other new pilot met the Chief Pilot at the hangar to conduct our Part 135 checkride. We spent an hour answering questions on Part 135 rules, our company OPSPECs, and systems, limitations, and operation of the Turbo Commander. Afterward we loaded up in the TC for the flight portion of the checkride. I was to go second which allowed me to see exactly what was going to happen. The first checkride finished in Flagstaff about an hour and a half later. By then it was dusk. I was not real excited about doing my checkride in the dark but I did not have much of a choice at this point.
We took off and headed south of the airport where I demonstrated steep turns, and various stall configuration demos. We then went to the IAF fix for the ILS at Flagstaff. The first approach needed to be coupled with the autopilot but the autopilot had a mind of its own and began flying the localizer with almost half scale deflections. I had to switch the HDG mode and essentially baby sit the AP all the way to the runway. He had me go missed on the first approach and execute the published missed. During the climb out he failed my engine and then my AP which ended up causing a ton of confusion as I worked on trying to secure the engine and fly to the holding point. The panel was so poorly lit that I could not see the slip/skid ball in order to make trim adjustments. We trained to place the AC in autopilot after completing the engine out memory items to allow us the ability to complete the checklist. While I was consulting the checklist the plane was flying with a mind of its own because the Chief had failed the AP. When I realized the AP could not be trusted I decoupled it and began hand flying through the hold which had gotten rather large in the interim.
After the hold I was sent back to the IAF to fly the ILS manually on a single engine which ended with a full stop. We departed Flag in utter blackness enroute to Winslow for an RNAV approach followed by a circle to land. This went off without a hitch and as I lined up on final I was told to go missed. From here it was back to Show Low for the RNAV approach that I had flown at least five times already. I was confident that it would be a non-event. The chief failed the primary hydraulic system enroute. In the Turbo Commander this would present itself by a gear unsafe light. The nose gear is held up only by hydraulic pressure. Once that pressure diminishes the nose gear will start to droop, the gear up switch will no longer be depressed and a red light will illuminate on the gear panel in the cockpit. At this point you know you have a leak so your primary concern is to preserve the fluid still in the reservoir tank. The primary hydraulic system pulls its fluid from the reservoir through a sten tube which projects several inches high in the reservoir. Once the fluid in the reservoir lowers to a point below the sten tube the hydraulic system is starved of fluid yet several quarts still remains in the reservoir. The aux hydrauilic system draws its fluid from the bottom of the tank so it can still access the remaining fluid. The problem is that the aux system will then start pumping that fluid right thru the existing leak until no fluid remains. To stop that the pilot must pull the aux pump breaker and move the flaps to the neutral position. The aux pump provides hydraulic fluid to the steering, brakes, and flaps. The emergency extension of the gear is done by gravity and a blow-down charge of nitrogen in an accumulator. The TC does need to be slowed down to 100 knots before gear extension is initiated; this is to limit the air loads on the gear which resist the accumulator. Extension can take as long as three minutes so it is best to get it done early on. Landing without flaps is not a big deal but no breaks or steering probably would be.
With the checkride passed I'm officially a Medevac pilot in a twin turbine aircraft. I've only logged about 12 hours of total turbine time but in many ways I think this plane is easier to fly than many other piston airplanes. I'm too tired to celebrate and I miss my family so I think I'll just go to bed considering its 8PM and I have to be back at the hangar at 6AM tomorrow.
[January 2, 2017]
ILS to Minimums
______________________________________________________________________________________________________
Flew down to TUS with the Chief on a transport mission. While the medical crew was at the hospital he had me practice a single engine ILS approach using the flight director. We headed back to SOW, the winds were blowing 60 deg off runway heading at 30 knots with some ice on the runway was going to be challenging but never happened because our comm center diverted us to Springerville to pick up another patient.
I did a visual approach into Springerville and the Chief flew the 135 leg to Flagstaff. The weather was VFR until about 10 miles from the airport, we picked up our clearance from Phoenix, the METAR said we were going into low IFR and that's exactly what we found. The Chief hand flew the approach right down to minimums before the runway finally revealed itself. It was eye opening for me with limited real world IFR experience. We taxied in to a windswept snowy ramp. Wow that was intense.
I got to fly the part 91 leg back to our base and conditions were about the same as when we arrived. I was on the gauges pretty quickly after rotating skyward. I got the AP on line and then began to run herd over the automated system. We were on top by 11,000 and headed back home in the clear. The wind was still blowing pretty hard out of the south when we arrived keeping a good crab until short final when I switched to a sideslip. Tomorrow is my checkride and I'm feeling very confident. I've come a long way getting comfortable with this airplane.
It is interesting to note that strong winds really influence the rudder in the Turbo Commander. It feels as if the right seat pilot is tapping or jabbing on the pedals but it is actually the wind moving the rudder. In strong winds it can be quite powerful.

Approach to Flagstaff ILS RW 21 MINIMUMS: 3/4 SM - METAR: KFLG 021912Z 22018KT 2SM BR OVC004 M02/M02 A3001 RMK AO2 VIS 1V5 SNE09
Blog Archive
['16, '15, '14, '13, '12, '11, '10, '09, '08, '07, '06, '05]